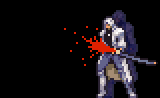 The
Doujikiri Yasutsuna
is a sword said to have cut off a demon's arm. In
Castlevania: Symphony of the Night
, it functions much like the Crissaegrim, except that it is two-handed, doesn't have a delay between swings, stronger in raw damage, but weaker in total damage and in practice (because it doesn't damage as fast and often as the Crissaegrim), and has less range.
In later games, it functions as a standard katana; via the other three named katanas (Onikiri, Kunitsuna and Muramasa), in Aria of Sorrow holding down B makes the ending portion of the swing hit twice; in that said game, Yasutsuna also has a base 40 attack, making it the strongest out of the prior two katanas in that regard. However, collecting it in Aria of Sorrow outside of an enemy drop may take some backtracking, since it can easily be just as ignored as the Vjaya (both are found in out-of-reach areas back at the Ruined Castle Corridor; the Yasutsuna in particular requires the use of the Giant Bat soul).
However, the sword returns to its former glory in Harmony of Despair when used by Alucard.
Item Data
Edit
Item Data: Yasutsuna
Image

Name

- Game
Description
Type / Users
Attributes / Consume
Statistics / Sell
Found
Notes
Yasutsuna-Made Katana
2 Handed Weapon (Katana)
Alucard 
Attrib: Cut

ATT +60 DEF -20

Drop: Werewolf

Effect: Slash Flurry while walking

Said to have killed a demon.
Weapon
Soma 
Attrib: Sword

ATK +40
Sell: $9,000 
Find: Castle Corridor (Giant Bat's soul required) (

...

)

Doujikiri Yasutsuna a sword said to have cut off a demon's arm
Katana
Soma 
Attrib: Slash

ATK +69
Sell: $29,000 
Find: Yoko's Shop
Create: Kunitsuna + Gaibon Soul

Effect: Scabard draw; Double strike
Evolve: + Malacoda Soul >> Muramasa

Doujikiri Yasuksuna, a sword said to have cut off a demon's arm.
Katana
Alucard/Soma 
#hands: 1

ATK +36
Sell: $11,500 
Rarity: ****
Find: Purple Chest (Chapter 5 Hard)
Drop: Death (Hard), Dracula (Hard), Pejora's Mask

Doujikiri Yasuksuna, a sword said to have cut off a demon's arm.
Katana
Alucard/Soma 
#hands: 1

Rarity: *****
Drop: Ryukotsuki (Hard)

Animations
Edit