'Castlevania: Lords of Shadow' - Stage 20 (Wygol Village)

from FlamingGnats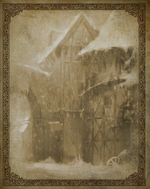 The Wygol Village is the second stage of Lords of Shadow Chapter 5. It is named after the Wygol Village that appeared in Castlevania: Order of Ecclesia. The level's unlockable trial requires Gabriel to finish the level without allowing Zobek to kill a single Ghoul.
Wygol was the last outpost of humanity in vampire territory, located very close to the Vampire Castle. The area was extremely cold and many died due to the climate. Once news of Gabriel Belmont's assault on the castle started to spread, the vampires, led by Lieutenant Brauner, attacked the village in an attempt to lure Belmont to them. The vampire slayer killed Brauner and was led to the castle sewers by grateful villagers.
In Lords of Shadow 2, a portion of the village was crushed by the broken Siege Titan and was later completely obliterated by the Great Explosion after the battle between Dracula and Roland de Ronceval. Over the centuries the village was eventually re-colonized and expanded over the remains of Dracula's castle. This grew into a modern-day metropolis, named Castlevania City.
Zobek's Journal
Edit
This village is one of the last vestiges of human civilization left in this place of death and cold. It lies not far from the Vampire's Castle, our next objective. I have some matters to attend to here, matters that could spoil our plans. I will deal with them and try to rendezvous with Gabriel later. He has not slept in days, not since the girl. The pain is etched in his face still, but in his soul only hatred drives him. We will not speak of it. He must not know I have seen everything, that I have followed him this far.
Enemy Data
Edit
Enemy Data: Wygol Village
Image

Name

- Game
Description
Statistics
Items
Location
Despite most people believing otherwise, Ghouls are not undead creatures. (

...

)
Weak: Dagger, Fairy, Holy Water x2, Crystal x3
Size: Medium
Difficulty: Low
Exp: 50, 100 if defeated with Holy Cross power

Chapters 5, 6, 13

Item Data
Edit
Item Data: Wygol Village
Image

Name

- Game
Description
Type / Users
Attributes / Consume
Statistics / Sell
Found
Notes
Designed to give the Combat Cross even more options for hand-to-hand combat, especially against supernatural creatures of the night.(

...

)
Gabriel 
Find: Wygol Village

(Red magical gems that can be inserted into the empty slots of a Shadow Gem Medallion.)
Gabriel 
Find: Chapters 2, 3, 4, 5, 6, 7, 8, 9, 10, 11

Related Locations
Edit