Ad blocker interference detected!
Wikia is a free-to-use site that makes money from advertising. We have a modified experience for viewers using ad blockers

Wikia is not accessible if you've made further modifications. Remove the custom ad blocker rule(s) and the page will load as expected.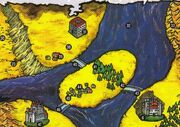 The
Wicked Ditch
(Japanese: 邪悪の溝
Jyaaku no mizo
) is the area surrounding
Bodley Mansion
, which consists of a desolate land and fierce creatures. Heading left from the mansion takes you to a seemingly unpassable river, which can be crossed by kneeling and using the
Red Crystal
, which reveals the
Uta Lower Road
. Heading right from the mansion takes you to the town of
Fetra
(also called Doina).
Enemy Data
Edit
Enemy Data: Wicked Ditch
Image

Name

- Game
Description
Statistics
Items
Location
'
HP: 8/16

Drop: Big Heart

Jam Wasteland, Wicked Ditch, Vlad Graveyard

'
HP: 16

Drop: Big Heart

Wicked Ditch

'
HP: 4/8

Drop: Small Heart (day), Half Heart (night)

Jam Wasteland, Wicked Ditch

'
HP: 4/8

Drop: Half Heart (day), Big Heart (night)

Jam Wasteland/Wicked Ditch