Weretiger
Talk

0
4,528pages on
this wiki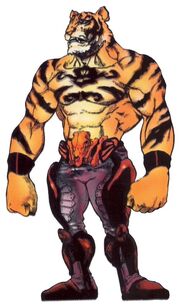 The Weretiger is a Were Beast with the head of a tiger. The Weretiger in Castlevania 64 and Castlevania: Legacy of Darkness was a slow moving beast with a strong grip.

Enemy Data
Edit
Enemy Data: Weretiger
Image

Name

- Game
Description
Statistics
Items
Location
'
HP: 60

Forest

'
HP: 100

Duel Tower

'
HP: 60 (45 on Easy, 90 on Hard)

Forest

'
HP: 90 (67.5 on Easy, 135 on Hard)

Duel Tower (Reinhardt-only)

Works on his uppercut so he can defeat Werejaguar.
Strong: Nothing
Weak: Sword, Poison, Curse
HP: 400
Exp: 320

Common Drop: Whip Knuckle
Soul: Guts Upper

The Arena

The Weretiger's bestiary description in Aria of Sorrow appears to reference Sagat from Street Fighter, seeing as both share an uppercut and a rivalry with a fellow pugilist; not to mention the common tiger motif.