Ad blocker interference detected!
Wikia is a free-to-use site that makes money from advertising. We have a modified experience for viewers using ad blockers

Wikia is not accessible if you've made further modifications. Remove the custom ad blocker rule(s) and the page will load as expected.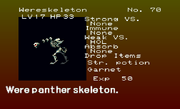 Were-Panther Skeletons (or Wereskeletons) are skeletal enemies fought in Castlevania: Rondo of Blood, Castlevania: Dracula X, and Castlevania: Symphony of the Night.
There are two kinds Were-Panther skeletons. Those that crouch like a beast, and those that stand upright like a man. The beast forms are similar to a normal Black Panther and other Carnivores. The upright ones are able to extend their necks a great distance and spew a great many of their ribs at an enemy at once.
Enemy Data
Edit
Enemy Data: Were-Panther
Image

Name

- Game
Description
Statistics
Items
Location
'
HP: 2
Exp: 250

7. Clocktower

'
HP: 6
Exp: 250

7. Clocktower

'
HP: 3

2. Entrance, 7. Dracula

Were panther skeleton.
Weak: Holy
Level: 17
HP: 33
Exp: 50

Drop: Strength Potion, Garnet

Catacombs