For the statistic in Portrait of Ruin, see Skill Points.
To be a master in the use of a weapon in Castlevania: Lords of Shadow 2, the player must master each one of its skills. Each skill has its own mastery container, which is filled by using the skill. Once the container is full, the player can transfer the mastery achieved to the corresponding weapon. Mastering as many skills as possible will allow the player to level up their weapons.
Requirements
Edit
In order to master the weapons Shadow Whip, Void Sword, and Chaos Claws, the player needs to meet three requirements.
First, a weapon technique has its unique name that identifies a combo from another. When the player uses these techniques in combat with the monsters, the name of the technique will be displayed below Dracula's health bar, followed by a percentage counter to the right. Each successful hit to an enemy increments this percentage by a certain amount. The goal is to make a weapon technique to "full capacity" by reaching 100.00% with the said combo.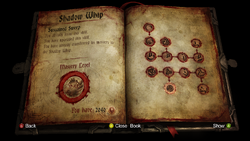 Second, when a weapon technique, or combo has reached one hundred percent, the player should go to the Skills tab in the Book of Dracul. The icon for the weapon technique will be filled in red, and the player can transfer the mastery earned in the combo, to the overall mastery of the weapon (As also indicated by the Transferable counter below the weapon). One level of Weapon Mastery requires several weapon techniques to be maxed at 100%.
Between the first and second requirements. The player can already upgrade an already-unlocked combo, or buy new ones, provided that he/she has acquired enough Experience Points for purchase. It is always a good idea to purchase a new combo for the weapon once a previous combo's mastery has already been transferred.
There are only three levels of mastery for each weapon. Once a weapon has reached Level 3 Mastery, the percentage for the combos will no longer be displayed on the screen.
Gameplay effects
Edit
Increasing a Weapon's Mastery Level is necessary in order to increase its damage output. As much as possible, the player is advised to use the combos available to max out the weapon in the early-to-middle parts of the game. Otherwise, the gameplay would become difficult when Dracula does not deal sufficient damage in the later parts of the game.
For each increment in a Mastery Level, the weapon's attacks will be visually brighter. This is best seen in the case of the Shadow Whip, which at Level 1, appears to be an almost-transparent whip of blood, but will have glowing red trails upon reaching Level 3.
Item Data
Edit
Item Data: Weapon Mastery
Image

Name

- Game
Description
Type / Users
Attributes / Consume
Statistics / Sell
Found
Notes
To be a master in the use of a weapon, you must master each one of its skills. Each skill has its own mastery container, which is filled by using the skill. Once the container is full, you can transfer the mastery achieved to the corresponding weapon. Master as many skills as you can to level up your weapons.
Skill (Basic Action)
Dracula, Alucard 
First Obtained: Science District