Any more, this page won't be updated anymore. NEW page => User blog:Kiyuhito/CR Pachinko Akumajō Dracula SH9 coming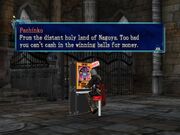 http://26926725.at.webry.info/201403/article_11.html
Magical Halloween (released)
Akumajo Dracula (unknown status)
Silent Hill (unknown status)
Mahjong Fight Club (released)
Dororon Enma-kun (released)
High School DxD (collaboration project announced)
Sky Girls 2 (unknown trailer available)
Sengoku Collection 2 (released)
Senritsu no Stratus (released)
G1 Turf Winner (unknown status)
Silent Hill (unknown status)
Metal Gear Solid (unknown status)
EDIT: Pachislot Senritsu no Stratus announced.
EDIT2: September 11, Pachislot Dororon Enma-kun announced.
EDIT3: December 22, Pachislot Sengoku Collection 2 announced.
EDIT4: April 17, High School DxD collaboration project announced. Probably Pachislot.
EDIT5: June 5, Sky Girls unknown trailer available. Probably Pachislot.
Ad blocker interference detected!
Wikia is a free-to-use site that makes money from advertising. We have a modified experience for viewers using ad blockers

Wikia is not accessible if you've made further modifications. Remove the custom ad blocker rule(s) and the page will load as expected.