For the Curse of Darkness enemy, see Unicorn.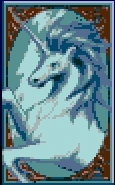 In Castlevania: Circle of the Moon, the Unicorn is a DSS card representing the element of Light, and thus producing light effects when used in conjunction with Action Cards. It is one of the two rarest cards in the game (along with the Black Dog card) because it is dropped by White Armors, which can only be found in the Battle Arena. When combined with the Uranus card, the Unicorn can be summoned. The summoned Unicorn does no damage, but instead heals the player.
The damage done by all damaging Unicorn effects is dependent on Nathan's STR (as modified by the card combo if applicable) and the susceptibility of the target(s) to Light.

Unicorn DSS Effects
Action Card
Name (may be unofficial)
In-Game Description
Description and Qualities
MP Cost

Mercury
Holy Whip
"Holy whip. Health is replenished with each swing of the whip."
While this card combo is active, the Hunter Whip glows white and showers sparkles of light over Nathan each time it is swung; its attack speed and range are unaffected. Each time Nathan swings the whip, his HP is restored by ((MAX HP/100)floor). This card combo also boosts Nathan's Strength (and therefore his attack power) by 20%.

20/ATTACK

(20 MP per whip-strike)


Venus
DEF Emphasis
"Defense x 2 while inflicted damages is 1/2."
While this card combo is active, Nathan's Defense is boosted by 200%, but his Strength is reduced by 50%.

8/TIME

(8 MP per second while card combo is active)


Jupiter
Circular Barrier
"A circular barrier will surround you."
While this card combo is active, Nathan is completely surrounded by a transparent spherical barrier that is marked by regular gleams of white, which acts as a protective shield. This barrier destroys destructible projectiles, candles, and breakable walls, and inflicts good damage (roughly equivalent to a whip stroke) to any enemy that comes into contact with it; however, if an enemy is not destroyed by this damage, it will be able to keep going without being slowed down, and will likely injure Nathan. This barrier is slightly smaller than that bestowed by its counterpart, the Jupiter + Black Dog card combo, and therefore may occasionally fail to block an attack (especially one that comes from below); however, unlike its aforementioned counterpart, it will not drain Nathan's health.

8/TIME

(8 MP per second while card combo is active)


Mars
Holy Sword
"Attack with a holy sword."
While this card combo is active, pressing the attack button will make Nathan pull out a very long white sword and slash it directly in front of him, injuring all enemies in the sword's path (unlike the swords created for the Mars + Salamander, Mars + Serpent, and Mars + Mandragora combos, this sword is not swung overhead). Due to the way the sword is swung, the attack's (brief) wind-up involves the sword being swing directly behind Nathan, damaging all enemies behind him, in the process of him swinging it in front of him for the main attack (damaging all enemies there); there is then a 1/6-second cooldown as Nathan puts the sword away. Overall, the entire attack is slightly faster than a standard whip-stroke, but a little bit slower than the Ice Whip and Ice Sword. The sword's reach extends out about 1.25 times further than that of the whip, but it inflicts more damage closer to its hilt, with minimum damage being inflicted at maximum range and maximum damage being inflicted at minimum range (right next to Nathan). This card combo also boosts Nathan's Strength (and therefore his attack power) by 70%, though the actual damage inflicted is affected by how close the enemy is to Nathan upon being struck (as mentioned above).

32/ATTACK

(32 MP per sword swing)


Diana
Guided Shell
"A guided shell is released with each attack."
While this card combo is active, a single shell of light is launched directly in front of Nathan every time he swings the Hunter Whip (the whip itself is unaffected). If no enemies are in the area, the shell quickly flies forward, destroying any objects in its path, and vanishes offscreen in less than a second. However, if there is at least one enemy in the area, the shell will home in on the closest one and attempt to stay on top of it, striking it for repeated (albeit fairly low) damage. If it destroys that enemy, it will fly away in a straight line immediately thereafter; otherwise, it will fly towards the next-closest enemy and attack that one, this pattern repeating until it has been on-screen for 6 seconds or all on-screen enemies are destroyed, at which point it will fly away. If at any time the shell ends up offscreen, it will quickly vanish, even if it is on top of an enemy at the time.

48/ATTACK

(48 MP per whip-stroke and corresponding shell-launch)


Apollo
Arrow of Light

"An arrow of light is hurled down.

[↓ ←(→) ↑ + Attack]"

While this card combo is active, press Down, Right (or Left), then Up plus Attack to make Nathan hover in the air and summon a volley of 8 large light arrows to fall down, from the left side of the screen to the right (the edge of the first arrow can clip enemies slightly offscreen to the left, and the 8th arrow will be a short distance offscreen to the right. Nathan will continue hovering in the air for about 1.5 seconds, and be completely invincible for this time (by the time he touches down, the 5th arrow should be beginning to fall). Any enemy that a light arrow makes contact with will take decent damage, and it is not uncommon for an enemy to be struck more than once (in fact, 3-4 hits on each enemy in a single arrow volley is the usual outcome, barring enemies that are unusually small, quick, and/or fragile). The entire attack lasts for about 2 seconds, though the player regains control of Nathan after 1.5 seconds.

80/USE

(80 MP per arrow summoning)


Neptune
Holy Absorption
"Light attacks heal character while reducing MP."
While this card combo is active, if Nathan is struck by a Holy attack (such as the attacks of the Holy Armor), he does not take any damage to his HP; instead, his MP is reduced by an appropriate amount, and his HP is restored by a fraction of the damage he would have otherwise taken (precise values are unknown).

3/TIME

(3 MP per second while card combo is active; in addition, absorbing an attack reduces Nathan's MP by an amount proportional to the damage that he otherwise would have taken. If Nathan's MP are reduced to 0, the combo is immediately deactivated)


Saturn
Cherub Familiar
"A cherub familiar appears to attack in tandem."
While this card combo is active, a Cherub familiar will follow Nathan everywhere he goes; like all other familiars, it will move around by flying, slowly adjusting its height in an up-and-down fashion. Whenever Nathan swings the Hunter Whip, the Cherub will imitate its action by putting a small arrow of light into its bow and firing it after a one-second delay; the arrow will travel forward at a fast speed in a straight line until it flies off the screen, passing through all enemies, candles, walls, and other objects in its path (damaging enemies and destroying candles and breakable walls). Its damage output is fairly weak.

32/SHOT

(32 MP per arrow fired by the cherub)


Uranus
Summon Unicorn

"A Unicorn will be summoned to attack.

[↓ ←(→) ↑ + Attack]"

While this card combo is active, pressing Down, Right (or Left), then Up plus Attack will make Nathan hover in the air and summon a Unicorn, which will fly across the screen over a span of 6 seconds; Nathan will be completely invincible during this time. Over this entire 6-second period, Nathan will be healed for ((MAX HP/100)floor) once every 1/4 seconds, for a total heal of (((MAX HP/100)floor)*30). However, the Unicorn does not do any damage to enemies.

100/USE

(100 MP used each time the Unicorn is summoned)


Pluto
Invulnerability
"The body glows with light and cannot be hit with anything."
While this card combo is active, Nathan will glow a bright yellow. Enemies and their attacks will be unable to affect him, but his own attacks will be unable to affect enemies, candles, or breakable walls.

20/TIME

(20 MP per second while card combo is active)
Ad blocker interference detected!
Wikia is a free-to-use site that makes money from advertising. We have a modified experience for viewers using ad blockers

Wikia is not accessible if you've made further modifications. Remove the custom ad blocker rule(s) and the page will load as expected.