Ad blocker interference detected!
Wikia is a free-to-use site that makes money from advertising. We have a modified experience for viewers using ad blockers

Wikia is not accessible if you've made further modifications. Remove the custom ad blocker rule(s) and the page will load as expected.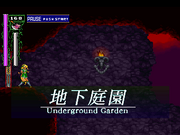 Underground Garden (地下庭園 Chika Teien) is an area from Akumajo Dracula X: Nocturne in the Moonlight (Saturn Edition). The entrance to this area is in other versions of Castlevania: Symphony of the Night, but was incomplete and contained only a save point. The corresponding area in the Reverse Castle is the Hell Garden.
This area's theme is Vampire Killer.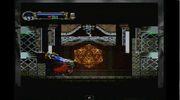 Enemy Data
Edit
Enemy Data: Underground Garden
Image

Name

- Game
Description
Statistics
Items
Location
Statue to be alive. Made of terra-cotta. Automatic crime prevention system of Castlevania.
Level: 15
HP: 50
Exp: 50

Drop: $100, Zircon

Underground Garden

Bone-hurling skeleton.
Weak: Holy
Level: 4
HP: 12
Exp: 10

Drop: Leather Shield, Knight Shield

Marble Gallery, Underground Garden (Saturn-only), Cursed Prison (Saturn-only)

Chase soldier skeleton who takes the Skeleton Beast.
Weak: Holy
Level: 4
HP: 12
Exp: 10

Underground Garden

Synthetic beast that collects various animal-bones and was made.
Weak: Holy
Level: 3
HP: 6
Exp: 8

Underground Garden

The charm of the water texture is similar to a delicious chicken.
Strong: Water
Weak: Fire, Thunder
Level: 3
HP: 10
Exp: 12

Underground Garden

He doesn't exterminate a human face fruit and the smile.
Weak: Holy
Level: 21
HP: 250
Exp: 125

Drop: Apple, Antivenom

Underground Garden

Crazy gardener in the Castlevania. He doesn't pardon for the rude person who wastes a garden.
Weak: Fire
Level: 20
HP: 130
Exp: 120

Drop: Orange, Peanuts

Underground Garden

Plant with razor-sharp leaves.
Strong: Hit
Weak: Fire
Level: 5
HP: 12
Exp: 20

Drop: Grapes, Strawberry

Abandoned Pit to the Catacomb, Black Marble Gallery, Catacombs, Long Library, Underground Garden (Saturn only), Cave

Plant with razor-sharp leaves.
Strong: Hit
Weak: Fire
Level: 13
HP: 18 (Weed) /20 (Face)
Exp: 100

Drop: Antivenom, Potion

Cave, Black Marble Gallery, Underground Caverns, Long Library, Underground Garden (Saturn only)

Giant venus fly trap. It preys on not the fly but human.
Weak: Fire
Level: 20
HP: 128
Exp: 100

Drop: Banana, Woodland Shield

Underground Garden

Boss
Skeleton soldier's leader. Bone defeated at power duel in castle.
Weak: Holy
Level: 36
HP: 444
Exp: 250

Underground Garden