Ad blocker interference detected!
Wikia is a free-to-use site that makes money from advertising. We have a modified experience for viewers using ad blockers

Wikia is not accessible if you've made further modifications. Remove the custom ad blocker rule(s) and the page will load as expected.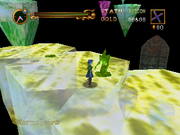 The Tower of Sorcery is a level in Castlevania (Nintendo 64), one of a few in which only Carrie Fernandez can access.
The stage is comprised of countless glittering crystals hovering over an endless black abyss which act as platforms and item holders (replacing torches). Carrie must jump onto them, going higher and higher until she gets to the top.
Some of these crystals cannot be leaped onto unless another, separate crystal is destroyed. Monsters also appear from the crystalline floors, sometimes appearing when the player doesn't notice.
Carrie can find her second hidden item in this level.
Enemy Data (Castlevania 64)
Edit
Enemy Data: Castlevania 64
Image

Name

- Game
Description
Statistics
Items
Location
'
HP: 30

Tower of Sorcery

'
HP: 30

Tower of Sorcery

Enemy Data (Legacy of Darkness)
Edit
Enemy Data: Legacy of Darkness
Image

Name

- Game
Description
Statistics
Items
Location
'
HP: 40

Tower of Sorcery

'
HP: 10

Tower of Sorcery

Related Stages
Edit