Ad blocker interference detected!
Wikia is a free-to-use site that makes money from advertising. We have a modified experience for viewers using ad blockers

Wikia is not accessible if you've made further modifications. Remove the custom ad blocker rule(s) and the page will load as expected.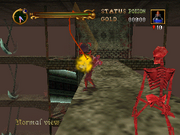 The Tower of Execution is a level in Castlevania (Nintendo 64), one of the few in which Reinhardt Schneider can access.
True to its name, the stage is a vast killing field, in which its many traps incorporate the various methods in which people are executed, such as huge guillotine blades. Most of the monster types in this stage, from skeletons to ghosts, fit the scheme of things. The architecture also adds to the deathly ambiance, including blood stains, rusted metal and fiery torches.
Reinhardt must traverse the tower from the ground up in a similar fashion to the way he went through the Duel Tower, leaping from platform to platform while avoiding the executing traps and monsters (some of whom can attack him from a distance, making timed leaps that much trickier).
This stage also contains a hidden key which unlocks a door somewhere in the level, leading to the second secret item.
Enemy Data (Castlevania 64)
Edit
Enemy Data: Castlevania 64
Image

Name

- Game
Description
Statistics
Items
Location
'
HP: 1

Tunnel, Tower of Execution

'
HP: 1

Castle Wall, Tunnel, Underground Waterway, Castle Center, Duel Tower, Tower of Execution, Clock Tower

Skeletons brought to life by the fearsome dark power of Count Dracula. Skeleton Warriors are proficient at attacking with weapons and in groups with other enemy characters. Some have the power to regenerate over and over again after being injured.
Forest, Castle Wall, Villa, Underground Waterway, Tower of Execution

''Abil: Stationary, bones reassemble when destroyed.

HP: 20 (regenerates)

Tower of Execution, Clock Tower (Hard)

An automatic cannon made of skulls of giant beasts, used to protect Dracula's castle. It attacks with balls of flame or breath of fire.
Castle Wall, Tunnel, Tower of Execution, Clock Tower

'
HP: 30

Castle Wall, Underground Waterway, Tower of Execution, Clock Tower

Enemy Data (Legacy of Darkness)
Edit
Enemy Data: Legacy of Darkness
Image

Name

- Game
Description
Statistics
Items
Location
This automatic cannon is assembled from the skulls of giant beasts and is used to protect Dracula's castle. It attacks with balls of flame or breath of fire.
Castle Wall, Villa, Tunnel, Underground Waterway, Duel Tower, Tower of Execution, Clock Tower

'
HP: 30

Drop: Usually 500 Gold or Red Jewel

Castle Wall, Villa, Underground Waterway, Duel Tower, Tower of Execution, Clock Tower

Skeletons brought to life by the fearsome dark power of Count Dracula. Skeleton Warriors are proficient at attacking with weapons and in groups with other enemy characters. Some have the power to regenerate over and over again after being injured.
Foggy Lake, Forest, Castle Wall, Villa, Outer Wall, Underground Waterway, Tower of Ruins, Tower of Execution

'
HP: 1

Drop: x3, usually 100 Gold

Tower of Execution

A half-man, half-lizard sub-human species found in the watercourses at the very bottom of Dracula's castle, Lizard Men tend to move around in groups, and are skilled at hunting in packs. They are relatively intelligent, and are armed with battle axes and shields.
Foggy Lake, Forest, Castle Center, Underground Waterway, Duel Tower, Tower of Execution





HP: 30 (5 or 10 for gray or pentagram shields)

Drop: Usually Red Jewel, Gold, or Power-Up

Underground Waterway, Castle Center, Tower of Execution

'
HP: 60

Drop: Usually Red Jewel or Gold; Frequently Knife

Art Tower (always drops Sun Card or Moon Card), Tower of Execution

Related Stages
Edit