Top Floor
Talk

0
4,026pages on
this wiki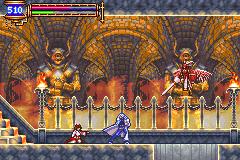 The uppermost area of the castle in the
Aria of Sorrow
. It's the second-to-the-last area to be explored. It's connected by the
Castle Corridor
,
Inner Quarters
and the
Clock Tower
.
Some of the lower rooms of this area have fiery backgrounds and are accompanied by red-colored enemies, such as Erinys, Minotaur, and the disguised Succubus. The higher-up rooms have a more gray, corridor-like appearance, and are full of gray-colored enemies such as Gargoyles, Lubicant, and Succubus.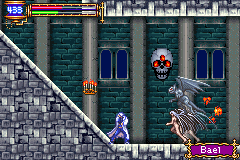 Some enemies here are from
The Arena
, although some enemies, like the
Basilisk
and the
Final Guard
, aren't from The Arena. Here is the list of enemies that can be found in the area:
Gargoyle
,
Erinys
,
Succubus
,
Final Guard
,
Basilisk
,
Lubicant
,
Stolas
,
Bael
,
Iron Golem
and
Red Minotaur
.
Graham is the boss of the area. If you defeat him properly, you can obtain the Black Panther ability.