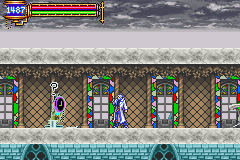 Time Stop Immunity is an ability in Castlevania: Aria of Sorrow. It can be obtained by gaining control over Galamoth's soul, which can be found inside a candelabra in a room located in the depths of the Underground Cemetery (only accessible after defeating Legion). It allows Soma to recognize places in which time has been stopped and become immune to its effects. With the soul acquired, Soma can then return to the large corridor at the Inner Quarters and dispel the Chronomage's time-stopping magic, giving him access to the children quarters and find the Ancient Book 2 in one of the rooms.
Item Data
Edit
Item Data: Time Stop Immunity
Image

Name

- Game
Description
Type / Users
Attributes / Consume
Statistics / Sell
Found
Notes
Recognize places in which time has been stopped.
Ability Soul
Soma 
Find: Underground Cemetery

Ad blocker interference detected!
Wikia is a free-to-use site that makes money from advertising. We have a modified experience for viewers using ad blockers

Wikia is not accessible if you've made further modifications. Remove the custom ad blocker rule(s) and the page will load as expected.