For the general environment, see Throne Rooms.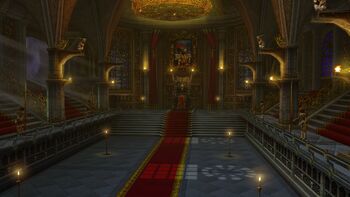 The Throne Room is a stage in Castlevania Judgment and is most likely in the Castle Keep. It is lined by Axe Armors in the balconies (who do not attack) and Dracula's throne.
When playing in Castle Mode and players get to battle a main character on this stage, sometimes the opponent won't follow the player way to the back where the picture of Dracula hangs. This allows for safe use of long range sub-weapons such as the charged Axe or charged Gale Wing. The only exception is Dracula, whom will use his Fire Pillar attack in order to reach your character.
Ad blocker interference detected!
Wikia is a free-to-use site that makes money from advertising. We have a modified experience for viewers using ad blockers

Wikia is not accessible if you've made further modifications. Remove the custom ad blocker rule(s) and the page will load as expected.