The Arena
Talk

0
4,021pages on
this wiki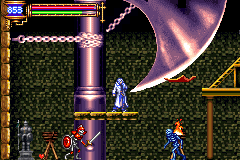 The Arena is an underground area of the castle in
Castlevania: Aria of Sorrow
that strongly resembles Roman architecture. The area has two elevators. The one has been malfunctioned,in fact it fell down. The other one is in working condition, and it leads to the three rooms that has items in the dead ends. When the player wants to go up or down, he or she can press the Up or Down button. The Arena is connected by the Underground Reservoir. The area might be the homage to the Roman Colosseum, which is seen in its middle area.
The Arena bestiary contains enemies with 70 HP and above (although there is an area where Medusa Heads can be seen,which have 30 HP). These are the enemies that can be found in the area: Gargoyle, Beam Skeleton, Dead Crusader, Killer Mantle, Skull Millione, Gladiator, Red Minotaur, Weretiger, Giant Skeleton, Lubicant, Erinys, Medusa Head, Arc Demon, Lilith, Succubus, and Bael.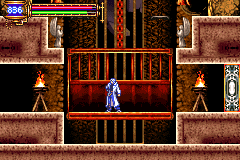 The Arena has the boss appear in the bottom-left corner of the map. While it may first appear to be a
Giant Bat
, it is quickly killed in a cutscene by the true boss,
Balore
. However, you still obtain the Giant Bat soul.
On the right-hand side of the elevator leading to Balore, there are a few long corridors containing either a challenge to complete. At the end of each corridor is a relatively powerful weapon, provided you didn't collect a more powerful one already.