Sypha Belmont
Talk

0
4,021pages on
this wiki
| | |
| --- | --- |
| | The name or term "Sypha" refers to more than one character or idea. For a list of other meanings, see Sypha (disambiguation). |
| | |
| --- | --- |
| | Warning! This article contains spoilers. Proceed at your own risk. |
Sypha Belmont

GALLERY

Japanese name
サイファ・ベルモンド
Saifa Berumondo
(Sypha Belmondo)
BIOGRAPHICAL INFORMATION
Role
Housewife
Date of birth
Unknown
Date of death
1072
Age
Unknown
CHARACTER INFORMATION
Appearance(s)
1072: Castlevania: Mirror of Fate
Weapon(s)
None
Abilities
None
VOICE ACTORS
English
Charlotte Emmerson
Japanese
OTHER INFORMATION
Relatives
Trevor Belmont (husband)
Simon Belmont (son)
Music theme
Sypha Belmont, née Belnades[1], was the wife of Trevor Belmont and mother of Simon Belmont.
Events of Mirror of FateEdit
She was killed in 1073 by the Werewolf forces of Dracula, leaving Simon to be raised by mountain people.
Her soul was kept in a frozen shard below Dracula's Castle where it is discovered by her son Simon in 1101. Despite Simon never realizing who she really is, she joins his quest to protect him with the power of her love. This power is known as the Spirit of Belnades.
Later during a battle with the Necromancer, she is captured only to be released after the battle.
She also helps to convince the spirit of Michael Gelhart Schneider to join Simon's cause, giving him the power of the Spirit of Schneider.
Spirit of Belnades
Edit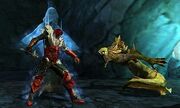 The Spirit of Belnades is one of Simon's two Spiritual Powers available to him in the game (the other is the Spirit of Schneider). It can be used to absorb damage received by enemies or stage hazards. As a type of Magic Power, damage absorbed reduces Simon's magic meter.

Item Data
Edit
Item Data: Spirit of Belnades
Image

Name

- Game
Description
Type / Users
Attributes / Consume
Statistics / Sell
Found
Notes
This is a protective female spirit that uses her cloak to shield Simon from enemy attacks or some environmental hazards.(

...

)
Magic Power (Spiritual Power)
Simon 
Find: Forgotten Caves

Though belonging to the Belnades clan, it is unknown whether she had magical powers during her life.
The Spirit of Belnades actually represents two distinct characters, both Sypha, and a woman who was a healer in ancient past, centuries before Simon's quest, whom pilgrims used to travel to visit her shrine.
References
Edit