Ad blocker interference detected!
Wikia is a free-to-use site that makes money from advertising. We have a modified experience for viewers using ad blockers

Wikia is not accessible if you've made further modifications. Remove the custom ad blocker rule(s) and the page will load as expected.
Stage 4 of Super Castlevania IV is The Sorcery Tower. Stage 4-1 is The Tower Entrance, stage 4-2 is The Spinning Room, stage 4-3 is The Rotating Tomb, stage 4-4 is The Levitation Chambers.
Enemy Data
Edit
Enemy Data: Super Castlevania IV Stage 4
Image

Name

- Game
Description
Statistics
Items
Location
'
HP: 48
Exp: 100
Atk: 3

1. Drawbridge/Fortress/Stables, 2. Forest/Lake/River, 3. Cavern/Waterfall/Moat, 4. Outer Keep, 6. The Halls, Super Castlevania IV Stage 9 [Gold], A. Clocktower, B. Castle Keep

'
HP: 48
Exp: 200
Atk: 3

1. Drawbridge/Fortress/Stables, 2. Forest/Lake/River, 3. Cavern/Waterfall/Moat, 4. Outer Keep, 6. The Halls, Super Castlevania IV Stage 9 [Gold], A. Clocktower

'
HP: 0
Exp: 100
Atk: 2

4. Outer Keep

'
HP: 96
Exp: 100
Atk: 3

3. Cavern/Waterfall/Moat, 4. Outer Keep, 5. Castle Court, 6. The Halls, A. Clocktower

'
HP: 48
Exp: 100
Atk: 3

1. Drawbridge/Fortress/Stables, 3. Cavern/Waterfall/Moat, 4. Outer Keep, 7. Unliving Quarters

'
HP: 48
Exp: 100
Atk: 3

4. Outer Keep, 8. The Dungeons

'
HP: 16
Exp: 100
Atk: 1

1. Drawbridge/Fortress/Stables, 4. Outer Keep, 8. The Dungeons, A. Clocktower

'
HP: 144
Exp: 100
Atk: 3

2. Forest/Lake/River, 3. Cavern/Waterfall/Moat, 4. Outer Keep, 5. Castle Court, 8. The Dungeons, Super Castlevania IV Stage 9, A. Clocktower

'
4. Outer Keep

'
4. Outer Keep

External Videos
Edit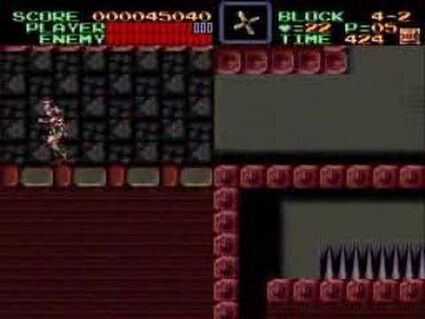 Related Pages
Edit