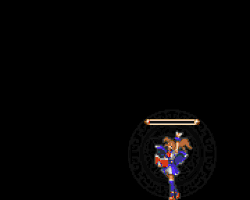 Summon Skeleton is a summon spell in the Castlevania series. As its name implies, it summons a Skeleton which will then proceed to throw bones.
In Castlevania: Symphony of the Night, a Skeleton can be summoned by using the Monster Vial 3.
It is one of Charlotte Aulin's magic spell skills in Castlevania: Portrait of Ruin, and later reappears in Harmony of Despair. When cast, it summons a Skeleton to use in battle.
Item Data
Edit
Animations
Edit
Ad blocker interference detected!
Wikia is a free-to-use site that makes money from advertising. We have a modified experience for viewers using ad blockers

Wikia is not accessible if you've made further modifications. Remove the custom ad blocker rule(s) and the page will load as expected.