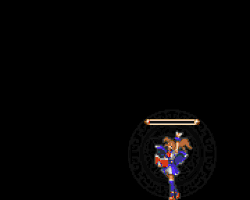 Summon Skeleton is a summon spell in the Castlevania series. As its name implies, it summons a Skeleton which will then proceed to throw bones.
In Castlevania: Symphony of the Night, a Skeleton can be summoned by using the Monster Vial 3.
It is one of Charlotte Aulin's magic spell skills in Castlevania: Portrait of Ruin, and later reappears in Harmony of Despair. When cast, it summons a Skeleton to use in battle.
Item Data
Edit
Item Data: Summon Skeleton
Image

Name

- Game
Description
Type / Users
Attributes / Consume
Statistics / Sell
Found
Notes
Summon a Skeleton to use in battle.
Magic Spell
Charlotte 
Attrib: Strike
Consume: 20 MP 
Base Attack: 10/20 (Half/Full charge)

Drop: Skeleton

Effect: Two skeletons briefly appear to toss bones.
Special: Fully charged: Four skeletons briefly appear to toss bones.

Summon a Skeleton to use in Battle.
Bound Spell
Charlotte 
Consume: 12 MP 
ATK +8

Rarity: *
Bind: Skeleton
First Obtained: Chapter 1

Evolve: Higher levels summon more skeletons.

Throw bones of an ancient skeleton.
Bound Spell
Charlotte 
Consume: 10 MP 
ATK +10

Rarity: *
Bind: R. Skeleton
First Obtained: Chapter 10

Animations
Edit