Ad blocker interference detected!
Wikia is a free-to-use site that makes money from advertising. We have a modified experience for viewers using ad blockers

Wikia is not accessible if you've made further modifications. Remove the custom ad blocker rule(s) and the page will load as expected.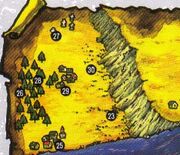 Storigoi Graveyard
(Japanese: ストリゴイ墓地
Sutorigoi Bochi
) can be entered by heading west from the lower path of the
Sadam Woods
. At the end, Simon can summon a spirit with
Garlic
, who will give the player a
Silk Bag
. This bag increases the total amount of
Laurels
Simon is able to carry. There is nothing beyond this graveyard, so the player has to turn back.
The name of this graveyard is an awkward translation of the katakana for strigoii, the traditional undead Romanian vampire.
Enemy Data
Edit
Enemy Data: Storigoi Graveyard
Image

Name

- Game
Description
Statistics
Items
Location
'
HP: 1/2/4/16/16/16

Drop: Small Heart (day), Half Heart (night)

Jova Woods, South Bridge, Veros Woods, Denis Woods, Dabi's Path, Aljiba Woods, Lower Road, Sadam Woods, Storigoi Graveyard, Uta Lower Road, North Bridge, Dora Woods, Joma Marsh, Denis Marsh

'
HP: 4/8/8

Drop: Small Heart (day), Half Heart (night)

Sadam Woods, Storigoi Graveyard, Camilla Cemetery

'
HP: 4/8

Drop: Small Heart (day), Half Heart (night)

Camilla Cemetery, Storigoi Graveyard

'
HP: 4/8

Drop: Small Heart (day), Half Heart (night)

Sadam Woods, Storigoi Graveyard

External Links
Edit