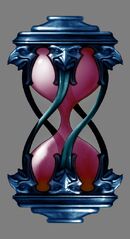 The Stopwatch is a sub-weapon that Alucard obtains in Castlevania: Lords of Shadow - Mirror of Fate. When used, it will temporarily stop time and slow enemies down.
It is based on the traditional Stopwatch sub-weapon from the classic games.
Description
Edit
Among the most demented inventions of the Toy Maker is the Stopwatch. Made with vampire plasma and powered by blood, they release their sinister magic when broken, slowing time in the immediate vicinity.
Item Data
Edit
Item Data: Stopwatch
Image

Name

- Game
Description
Type / Users
Attributes / Consume
Statistics / Sell
Found
Notes
This device makes use of vampire blood to slow down time. It becomes very useful when you want to hit fast moving enemies or to solve puzzles under time pressure. Alucard is not affected by the power of the stopwatch. (

...

)
Secondary Weapon
Alucard 
Find: Toy Maker's Workshop

Special: The 'Charged' secondary attack will make time move much more slowly than the standard attack.

The Toy Maker seems to have developed the Stopwatch's spell mechanics due to observing how Dracula's blood magic works.
It is the only incarnation of the sub-weapon to be powered by vampire blood.
The Stopwatch is a nod to Castlevania III: Dracula's Curse, as it is the only traditional sub-weapon that Alucard can use in the game.
Alucard's later ability to reconstruct elements of Castlevania in Revelations is based on this item, but rooted directly in his vampiric abilities rather than using a secondary tool.
Ad blocker interference detected!
Wikia is a free-to-use site that makes money from advertising. We have a modified experience for viewers using ad blockers

Wikia is not accessible if you've made further modifications. Remove the custom ad blocker rule(s) and the page will load as expected.