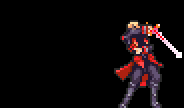 The
Stellar Sword
is the primary weapon of
Maxim Kischine
, a repudiated swordsman and vampire hunter who was a friend and rival to
Juste Belmont
. Though Maxim was a formidable warrior, the sword possessed innate ability and great strength; it allowed the user to multiply himself, with these shadows instantaneously rending any foe to pieces.
This weapon was one of several famed weapons later awarded to Jonathan Morris by Wind, who utilized the inherent properties in the blade to annihilate enemies.
Castlevania: Harmony of Dissonance
Edit
This sword is Maxim's default weapon. It is faster than Juste's Vampire Killer, though not as strong as the whip. Maxim displays several talents with it, the most notable being an attack launching shadows of himself across the screen for massive damage.
Castlevania: Portrait of Ruin
Edit
This weapon is awarded to Jonathan once the "Almighty" quest given by Wind, asking Jonathan to obtain and master every tool of the vampire hunter's arsenal. When Jonathan does this, he is rewarded with the Stellar Sword, one of the best sword weapons in the game. Though the Stellar Sword lacks in attack power compared to some of the more damaging weaponry in the game, the sword does possess the Holy element, which, given the tendency of enemies being weak to that element, is an attribute worth sacrificing said attack power for. Jonathan is also capable of performing a powerful teleporting attack with the sword as its Critical Art, simultaneously appearing towards all enemies on screen to deliver a fast, empowered slash.
Item Data
Edit
Ad blocker interference detected!
Wikia is a free-to-use site that makes money from advertising. We have a modified experience for viewers using ad blockers

Wikia is not accessible if you've made further modifications. Remove the custom ad blocker rule(s) and the page will load as expected.