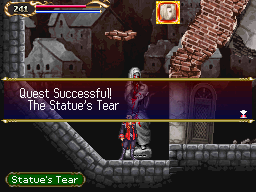 The Statue's Tear is a key item in Castlevania: Portrait of Ruin. It is a miraculous tear, fallen from the eye of a divine statue. This item is required in order to complete Wind's quest: "The Statue's Tear".
Availability
Edit
In order to complete the quest, the player should first make sure it is already active in the "Quest" menu; otherwise, the trip will be in vain.
Head to the bottom-left corner of the Nation of Fools, where a statue of the Virgin Mary is located, and press ↑ in front of it. The statue will then start shedding tears of blood, completing the quest.
Return to Wind afterward in order to collect this quest's reward, which is the classic Holy Water sub-weapon skill for Jonathan.
Item Data
Edit
Item Data: Statue's Tear
Image

Name

- Game
Description
Type / Users
Attributes / Consume
Statistics / Sell
Found
Notes
A miraculous tear, fallen from the eye of a divine statue.
Find: Nation of Fools

Ad blocker interference detected!
Wikia is a free-to-use site that makes money from advertising. We have a modified experience for viewers using ad blockers

Wikia is not accessible if you've made further modifications. Remove the custom ad blocker rule(s) and the page will load as expected.