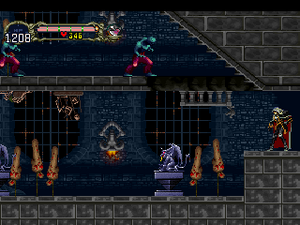 Soul Prison (魂の牢獄[1] Tamashī no Rōgoku) is an area from Akumajō Dracula X: Nocturne in the Moonlight (Saturn). It's the Reverse Castle's version of the Cursed Prison. The Soul Prison's theme is Vampire Killer.

Enemy Data
Edit
Enemy Data: Underground Garden
Image

Name

- Game
Description
Statistics
Items
Location
The one to manipulate corpse. Light who covers a corpse is the main body.
Weak: Holy
Level: 34
HP: 280
Exp: 210

Drop: Dark Shield, Skull Shield

Soul Prison

Fearful ghost. Attention is necessary for touch of the death.
Weak: Holy
Level: 32
HP: 300
Exp: 220

Drop: Pentagram, Muramasa

Soul Prison

Expert at throwing weapons.
Weak: Holy
Level: 33
HP: 20
Exp: 150

Drop: Shuriken, Flame Star

Black Marble Gallery, Reverse Caverns, Reverse Entrance, Reverse Outer Wall, Soul Prison (Saturn only)

Zombies which attack even when cut in half.
Weak: Holy, Fire
Level: 32
HP: 190
Exp: 50

Drop: Shuriken, Frankfurter

Death Wing's Lair, Soul Prison (Saturn only)

Statue to be alive. Made of granite. Automatic crime prevention system of Castlevania.
Level: 35
HP: 110
Exp: 250

Drop: Hammer, Double Blade Axe

Soul Prison

References
Edit
Ad blocker interference detected!
Wikia is a free-to-use site that makes money from advertising. We have a modified experience for viewers using ad blockers

Wikia is not accessible if you've made further modifications. Remove the custom ad blocker rule(s) and the page will load as expected.