Ad blocker interference detected!
Wikia is a free-to-use site that makes money from advertising. We have a modified experience for viewers using ad blockers

Wikia is not accessible if you've made further modifications. Remove the custom ad blocker rule(s) and the page will load as expected.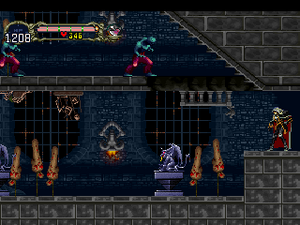 Soul Prison (魂の牢獄[1] Tamashī no Rōgoku) is an area from Akumajō Dracula X: Nocturne in the Moonlight (Saturn). It's the Reverse Castle's version of the Cursed Prison. The Soul Prison's theme is Vampire Killer.

Enemy Data
Edit
Enemy Data: Underground Garden
Image

Name

- Game
Description
Statistics
Items
Location
The one to manipulate corpse. Light who covers a corpse is the main body.
Weak: Holy
Level: 34
HP: 280
Exp: 210

Drop: Dark Shield, Skull Shield

Soul Prison

Fearful ghost. Attention is necessary for touch of the death.
Weak: Holy
Level: 32
HP: 300
Exp: 220

Drop: Pentagram, Muramasa

Soul Prison

Expert at throwing weapons.
Weak: Holy
Level: 33
HP: 20
Exp: 150

Drop: Shuriken, Flame Star

Black Marble Gallery, Reverse Caverns, Reverse Entrance, Reverse Outer Wall, Soul Prison (Saturn-only)

Zombies which attack even when cut in half.
Weak: Holy, Fire
Level: 32
HP: 190
Exp: 50

Drop: Shuriken, Frankfurter

Death Wing's Lair, Soul Prison (Saturn-only)

Statue to be alive. Made of granite. Automatic crime prevention system of Castlevania.
Level: 35
HP: 110
Exp: 250

Drop: Hammer, Double Blade Axe

Soul Prison

References
Edit