Ad blocker interference detected!
Wikia is a free-to-use site that makes money from advertising. We have a modified experience for viewers using ad blockers

Wikia is not accessible if you've made further modifications. Remove the custom ad blocker rule(s) and the page will load as expected.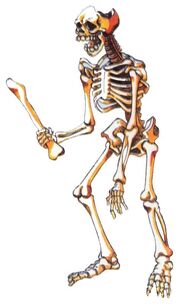 Skeleton foot soldiers that appear in Castlevania (Nintendo 64) and Castlevania: Legacy of Darkness. They often rise out of the ground or designated spot in unlimited supplies. There are several variations of Skeleton Warriors. Some run up to the player and attack them with bones used as clubs. Others will remain stationary, throwing bones at the player from a distance. White skeletons fall apart when when they take damage and can continue to pull themselves along the ground without their legs and attack. Blue Skeletons have a fuse on top of their heads which will cause them to explode when a timer runs out, they get near a player, or are damaged by them. This destroys themselves and damages the player. Red Skeletons reassemble after they have been destroyed. In Legacy of Darkness, Skeleton Warriors are slightly harder to kill at night than they are during the day and are often more plentiful.

Enemy Data
Edit
Enemy Data: Skeleton Warriors
Image

Name

- Game
Description
Statistics
Items
Location
Skeletons brought to life by the fearsome dark power of Count Dracula. Skeleton Warriors are proficient at attacking with weapons and in groups with other enemy characters. Some have the power to regenerate over and over again after being injured.
Forest, Castle Wall, Villa, Underground Waterway, Tower of Execution

''Abil: Runs towards you, clubs with bone, can crawl out of ground.

HP: 8

Forest, Castle Wall, Villa, Underground Waterway, Clock Tower (Hard)

''Abil: Stationary, throws bones.

HP: 8

Forest

''Abil: Crawls out of the ground, chases relentlessly, explodes when nearby or timer runs out. Often appears in response to discovering a secret.

HP: 0

Forest, Castle Wall, Underground Waterway

''Abil: Stationary, bones reassemble when destroyed.

HP: 20 (regenerates)

Tower of Execution, Clock Tower (Hard)

Skeletons brought to life by the fearsome dark power of Count Dracula. Skeleton Warriors are proficient at attacking with weapons and in groups with other enemy characters. Some have the power to regenerate over and over again after being injured.
Foggy Lake, Forest, Castle Wall, Villa, Outer Wall, Underground Waterway, Tower of Ruins, Tower of Execution

'
HP: 10 (day), 12 (night)

Drop: usually Red Jewel, Gold, or Power-Up; frequently Knife

Foggy Lake, Forest, Castle Wall, Villa, Outer Wall, Underground Waterway, Tower of Ruins

'
HP: 10 (day), 12 (night)

Drop: usually Red Jewel, Gold, or Power-Up

Forest

'
HP: 0

Drop: x3, usually 100 Gold

Forest, Underground Waterway

'
HP: 1

Drop: x3, usually 100 Gold

Tower of Execution

'
HP: 10 (day), 12 (night)

Forest