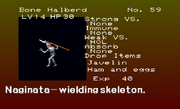 Skeleton Spears are Skeletons that wield a variety of types of spears. The first skeleton spears were on rafts in Castlevania: Rondo of Blood and attempted to knock Richter off of his raft. They later wielded Halberds in Castlevania: Symphony of the Night and other games. The Skeleton Diver in Castlevania: Curse of Darkness is armed with throwing Tridents and rides a giant skeletal fish.
Appearances
Edit
Main article: Skeleton Diver
The Skeleton Diver is a skeleton who wields a trident and owns a skeleton fish. He and his fish guard the Bird-Type Innocent Devil near the castle entrance (which was covered by water at the time). He most likely died after Hector defeated him, although his fish has reappeared in Order of Ecclesia in the background of the first water area and in Judgment at the castle entrance, where he harasses the players by destroying parts of the bridge to the castle.
Enemy Data
Edit
Enemy Data: Skeleton Spear
Image

Name

- Game
Description
Statistics
Items
Location
'
HP: 4
Exp: 200

4'. River

Naginata-wielding skeleton.
Weak: Holy
Level: 14
HP: 30
Exp: 40

Drop: Javelin, Ham and Eggs

Royal Chapel

'
HP: 3
Atk: 1

1. Outside, 2. Inside, 3. Clock Tower, Hidden

'
Strong: Darkness
HP: 30/150 (

*

)
Exp: 6/580
Atk: 65/400
Def: 46/200

Common Drop: Leather Armor (3%)
Rare Drop: Cotton Robe (1%)

Catacomb, Battle Arena(

*

)

'
Level: 11
HP: 51
Exp: 33

Common Drop: $25
Rare Drop: Leather Helmet

Castle B: Skeleton Cave, Castle Top Floor, Chapel of Dissonance

Ad blocker interference detected!
Wikia is a free-to-use site that makes money from advertising. We have a modified experience for viewers using ad blockers

Wikia is not accessible if you've made further modifications. Remove the custom ad blocker rule(s) and the page will load as expected.