Skeleton Ape
Talk

0
4,026pages on
this wiki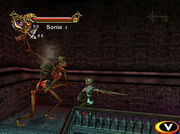 This article is for the skeleton that throws barrels. For the skeleton that is inside of barrels, see Barrel Skeleton
An undead Donkey Kong cameo. Walks around slowly, holding a Barrel above its head. Throws the exploding barrel at the player when they are within range, then walks around uselessly.
Enemy Data
Edit
Enemy Data: Skeleton Ape
Image

Name

- Game
Description
Statistics
Items
Location
'
HP: 2
Exp: 100

1. Village

'
HP: 1

1. Town, 2. Entrance

Animated ape skeleton. Hurls wooden barrels.
Weak: Holy
Level: 10
HP: 10
Exp: 30

Drop: Banana, TNT

Outer Wall, Underground Caverns

'
Level: 12
HP: 51
Exp: 39

Common Drop: $25
Rare Drop: Rock Leather

Castle A: Skeleton Cave, Castle Treasury
Castle B: Skeleton Cave, Luminous Cavern

A skeletal corpse of an ape that is controlled by magic.
Strong: Piercing, Dark
Weak: Bashing, Fire, Holy
HP: 30
MP: 1
Exp: 48
Atk: 26
Timestop: Affected

Soul: Power Throw (4%)

Garden of Madness

Item Data
Edit
Item Data: Related Items
Image

Name

- Game
Description
Type / Users
Attributes / Consume
Statistics / Sell
Found
Notes
Creates pillar of flame [use]
Projectile
Alucard 
Attrib: Fire

ATK +60

Find: Throughout castle (

all

)
Drop: Bomb Knight, Skeleton Ape

Best when nearly rotten [use]
Food (Fruit)
Alucard 
HP +7

Drop: Skeleton Ape, Venus Man Trap (Saturn-only)

Game-Specific Information
Edit
Castlevania : Symphony of the Night
Edit
The Skeleton Ape only has a limited number of barrels, after which it will wander forward slowly and use physical attacks if Alucard strays too close.
The aid of a Skeleton Ape must be enlisted in order to enter the Abandoned Mine and Catacombs. After hitting a switch in the room beyond the waterfall, a Skeleton Ape will appear and destroy a wooden bridge, followed by the message "something has appeared near to the wooden bridge" appearing. Backtracking will lead to the discovery that a Skeleton Ape now exists in a prior room, and it must be lured into throwing its barrel onto that room's bridge to destroy it. Unequipped offensive Familiars which may otherwise kill the skeleton is advisable.