Ad blocker interference detected!
Wikia is a free-to-use site that makes money from advertising. We have a modified experience for viewers using ad blockers

Wikia is not accessible if you've made further modifications. Remove the custom ad blocker rule(s) and the page will load as expected.
World map for Castlevania II: Simon's Quest which appeared in the NES Game Atlas. This map is based on a map which appeared in the Japanese manual for the game.
Veros Woods-2
Dabi's Path-2
Aljiba Woods-2
Rover Mansion (Lauber Mansion)
Camilla Cemetery (Camilla Cemetary)
Dead River-2
Dead River-3
Jam Wasteland (Southern Path) / Deborah Cliff
Dead River-4
Town of Alba (Aldra)
Storigoi Graveyard (Strigoi Graveyard)
Town of Ondol (Ondol, Andole)
Jam Wasteland (Northern Path) / Deborah Cliff
Uta Lower Road-2
Joma Marsh-2
Town of Doina (Fetra)
Town of Yomi (Ghulash)
Vrad Graveyard (Vlad Graveyard)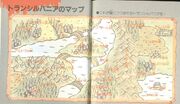 References
Edit