Ad blocker interference detected!
Wikia is a free-to-use site that makes money from advertising. We have a modified experience for viewers using ad blockers

Wikia is not accessible if you've made further modifications. Remove the custom ad blocker rule(s) and the page will load as expected.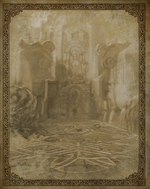 The Sanctuary Entrance is the seventh level of the second chapter of Castlevania: Lords of Shadow. The level's unlockable trial requires that Gabriel finishes the level after absorbing 20 Neutral Elemental Orbs simultaneously.

Zobek's Journal
Edit
Fate has played its hand, and now the die is set. I knew this child would play her part somehow and it seems Gabriel has real help at last. It bodes well for our quest. The Golem that protects the girl has something that could prove very useful in the end...something unforeseen. My dear friend, I see your destiny before me, and it is terrible indeed, and yet I have trust that all will be as I have hoped.
Enemy Data
Edit
Enemy Data: Sanctuary Entrance
Image

Name

- Game
Description
Statistics
Items
Location
These creatures are humans that have been poisoned with an infectious disease known as the "Werewolf Influenza".(

...

)
Strong: Holy Water x2
Weak: Dagger x3, Fairy, Divine Shield, Crystal x3
Size: Medium
Difficulty: Low

Chapters 1 (bestiary in Besieged Village), 2, 3

Little is known about these fierce, wolf-like beasts. (

...

)
Strong: Light Fairy, Holy Water x2, Divine Shield
Weak: Dagger x2, Fairy, Divine Shield, Crystal x3
Size: Big
Difficulty: Medium

Chapters 1 (bestiary in Hunting Path), 2, 3, 6

Trolls are a dying species living mostly in mountainous areas. (

...

)
Strong: Dagger, Holy Water x2
Weak: Explosive Dagger, Fairy, Crystal x3
Size: Big
Difficulty: Medium

Chapters 2, 4, 9

Item Data
Edit
Item Data: Sanctuary Entrance
Image

Name

- Game
Description
Type / Users
Attributes / Consume
Statistics / Sell
Found
Notes
(Blue magical gems that can be inserted into the empty slots of a Light Gem Medallion.)
Gabriel 
Find: Chapters 2, 3, 4, 5, 6, 7, 8, 9, 10, 11

(Red magical gems that can be inserted into the empty slots of a Shadow Gem Medallion.)
Gabriel 
Find: Chapters 2, 3, 4, 5, 6, 7, 8, 9, 10, 11

(increases the amount of Silver Daggers that can be equipped by 5)
Gabriel 
Find: The Dead Bog, Enchanted Forest, Agharta, Sanctuary Entrance

(1 fourth of a complete Dark Crystal)
Gabriel 
First Obtained: Sanctuary Entrance

Related Locations
Edit