Ad blocker interference detected!
Wikia is a free-to-use site that makes money from advertising. We have a modified experience for viewers using ad blockers

Wikia is not accessible if you've made further modifications. Remove the custom ad blocker rule(s) and the page will load as expected.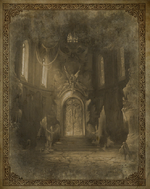 Refectory is the fourth and final stage of Lords of Shadow Chapter 6. The level's unlockable trial requires that Gabriel finishes the level and defeats the Evil Butcher after using at least 15 of the objects in the kitchen.

Zobek's Journal
Edit
She has the body of an innocent child, yet the wits and cunning of a seasoned predator. She will kill Gabriel in a heartbeat if she could. Beautiful Laura, who was turned many centuries ago, has lived a lonely, cruel existence ever since. Gabriel will have to be very careful from now on, as he can be sure that her "mother," the one who commands here, is now fully aware of his presence and that Laura herself still has some part to play in our tale.
Enemy Data
Edit
Enemy Data: Refectory
Image

Name

- Game
Description
Statistics
Items
Location
Despite most people believing otherwise, Ghouls are not undead creatures. (

...

)
Weak: Dagger, Fairy, Holy Water x2, Crystal x3
Size: Medium
Difficulty: Low
Exp: 50, 100 if defeated with Holy Cross power

Chapters 5, 6, 13

The human inhabitants of the Vampire Castle suffered a cruel fate once the Dark Lord set up her lair inside. (

...

)
Strong: Dagger x3, Fairy
Weak: Dagger, Light Fairy, Holy Water, Crystal x3
Size: Medium
Difficulty: Medium

Chapters 5, 6, 7, 8, 10, 13

These empty suits of armor have been given temporary 'life' due to possession by a poltergeist. (

...

)
Strong: Dagger, Fairy x3
Weak: Explosive Dagger, Light Fairy, Holy Water, Crystal x3
Size: Big
Difficulty: Medium

Drop: Often a complete Dark Crystal

Chapters 5, 6, 7

Bosses
This monster of unknown origin has somehow become the 'official cook' for the Vampires. (

...

)
Strong: Dagger, Fairy
Weak: Explosive Dagger, Light Fairy, Holy Water x2, Divine Shield, Crystal x2
Size: Big
Difficulty: High

Drop: Refectory Key

Refectory (Chapter 6)

Item Data
Edit
Item Data: Refectory
Image

Name

- Game
Description
Type / Users
Attributes / Consume
Statistics / Sell
Found
Notes
(Green magical gems that can be inserted into the empty slots of a Life Gem Medallion.)
Gabriel 
Recovers health.

Find: Chapters 1, 2, 3, 4, 5, 6, 7, 8, 9, 10, 11
First Obtained: Hunting Path

(Red magical gems that can be inserted into the empty slots of a Shadow Gem Medallion.)
Gabriel 
Find: Chapters 2, 3, 4, 5, 6, 7, 8, 9, 10, 11

Related Locations
Edit