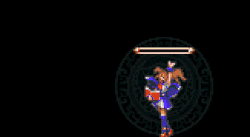 Raging Fire is one of Charlotte Aulin's spells that fires a burst of flames. She is able to use this as a magic spell skill in Castlevania: Portrait of Ruin and then later in Castlevania: Harmony of Despair. It is a more prolonged flame attack than Yoko Belnades' Holy Flame spell or Sypha Belnades' Flames attack, but is not a continuous burst of fire like Soma Cruz's Flame Breath attack.

Item Data
Edit
Item Data: Raging Fire
Image

Name

- Game
Description
Type / Users
Attributes / Consume
Statistics / Sell
Found
Notes
Fire a burst of flame.
Magic Spell
Charlotte 
Attrib: Fire
Consume: 20 MP 
Base Attack: 8/16 (Half/Full charge)

Find: Entrance

Effect: Fires a burst of flame in a short distance that can hit twice.
Special: Fully charged: Doubles the distance and damage of the flame.

Fire a burst of flames.
Bound Spell
Charlotte 
Consume: 10 MP 
ATK +6

Rarity: ***
Bind: Spittle Bone, Minotaur, White Dragon
First Obtained: Chapter 1

Animations
Edit
Ad blocker interference detected!
Wikia is a free-to-use site that makes money from advertising. We have a modified experience for viewers using ad blockers

Wikia is not accessible if you've made further modifications. Remove the custom ad blocker rule(s) and the page will load as expected.