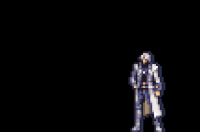 Puppets are dummies that can be thrown into narrow corridors. Once they land, the character who threw them switches places with them. The ability Substitute Puppet was first obtained by Soma Cruz from the Puppet Master's soul in Castlevania: Dawn of Sorrow, and later in Castlevania: Harmony of Despair. The playable Old Axe Armor is also able to use this ability in Castlevania: Portrait of Ruin.
Game specific information
Edit
Substitute Puppet can be obtained by gaining dominance over the Puppet Master's soul in Dawn of Sorrow, and enables Soma to throw a puppet forward and switch places with it when it lands. This allows the player to reach the other side of small holes on walls located throughout the castle, which either serve as shortcuts or allow access to all new areas (mainly the Condemned Tower and Subterranean Hell).
Besides the aforementioned properties of this ability, if the player equips the Skeleton Ape's soul, Power Throw, the puppet will be thrown a larger distance. Using this method is one of the alternative ways of reaching the other side of the flooded, spiked cavern in the Subterranean Hell.
Item Data
Edit
Item Data: Puppet
Image

Name

- Game
Description
Type / Users
Attributes / Consume
Statistics / Sell
Found
Notes
Throw a puppet and switch places with it.
Bullet Soul
Soma 
Find: Demon Guest House
Drop: Puppet Master

Effect: The player throws a puppet forward and switches places with it when it lands.

'
Sub-Weapon
Old Axe Armor 
Consume: 6 MP 
Find: Starts with

Effect: Throws a small puppet forward, allowing the Old Axe Armor to switch places with it.
Special: Only available in Old Axe Armor Mode.

Throw a puppet and switch places with it.
Bullet Soul
Soma 
Consume: 10 MP 
Rarity: **
Steal: Puppet Master (0.3%)

Animations
Edit
Ad blocker interference detected!
Wikia is a free-to-use site that makes money from advertising. We have a modified experience for viewers using ad blockers

Wikia is not accessible if you've made further modifications. Remove the custom ad blocker rule(s) and the page will load as expected.