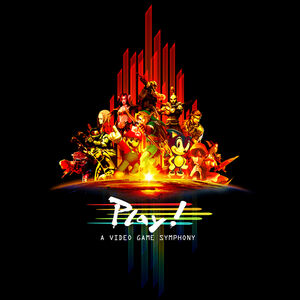 Presentation
Edit
Play! A Video Game Symphony is a series of symphonic video games music concerts created by Nobuo Uematsu, Final Fantasy first composer, and Arnie Roth. On January 9, 2009, they released their CD Play! A Video Game Symphony Live!, containing a Castlevania medley.
Tracklist
Edit
PLAY! Opening Fanfare
Commodore 64 Medley
Castlevania
Sonic the Hedgehog
Crono Cross
Silent Hill 2
Halo
Kingdom Hearts
Battlefield Featuring Rony Barrak
World of Warcraft
The Elder Scrolls IV: Oblivion
Guild Wars
More Information
Edit
External Links
Edit
Ad blocker interference detected!
Wikia is a free-to-use site that makes money from advertising. We have a modified experience for viewers using ad blockers

Wikia is not accessible if you've made further modifications. Remove the custom ad blocker rule(s) and the page will load as expected.