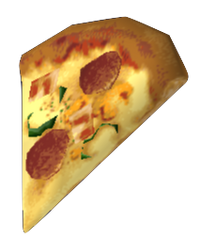 Pizza is a food item that recovers health in Castlevania. It recovers 21 HP in Castlevania: Symphony of the Night, which is the highest amount for any fast food item, which is one more than a Hamburger. It recovers one less health than the lowest health recovering breakfast item, Ham and Eggs. It can be dropped by a Frog or a Toad.
Pizza also appears in Castlevania: Curse of Darkness and is dropped by the Legion.
Item Data
Edit
Item Data: Pizza
Image

Name

- Game
Description
Type / Users
Attributes / Consume
Statistics / Sell
Found
Notes
New York style! [use]
Food
Alucard 
HP +21

Drop: Frog, Toad

A simple-is-best thin crust with cheese topping.
Food
Hector 
HP +90

Steal: Legion Lv.52

New York style!
Item (Food)
Alucard 
HP +80

Buy: 8S Find: Royal Chapel

The ultimate pizza, made with buffalo mozzarella. Who knew?
Item (Food)
any 
HP +70, STR +2
Sell: $250 
Rarity: **
Find: Chapter 3 (Hard)

Ad blocker interference detected!
Wikia is a free-to-use site that makes money from advertising. We have a modified experience for viewers using ad blockers

Wikia is not accessible if you've made further modifications. Remove the custom ad blocker rule(s) and the page will load as expected.