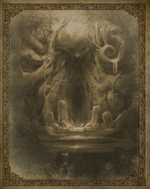 Pan's Temple is the fourth level of the first chapter of Castlevania: Lords of Shadow. The level's unlockable trial requires that Gabriel finishes the level after beating Pan's trial in 5 moves.

Zobek's Journal
Edit
The search of the bog fades into memory and a land of great beauty lies before him, a paradise where nature lives in harmony with all living creatures, indeed a refuge for those who wish it. He is close now; close to the old gods and the old ways. Long forgotten by men, this kingdom was once revered by all, yet now only a small part remains. Soon even this will disappear. The amulet senses its master; its journey is almost over. he will need all his strength now, all his wits if he is to succeed here, if he is to convince the old god to help him.
Item Data
Edit
Item Data: Pan's Temple
Image

Name

- Game
Description
Type / Users
Attributes / Consume
Statistics / Sell
Found
Notes
(Green magical gems that can be inserted into the empty slots of a Life Gem Medallion.)
Gabriel 
Recovers health.

Find: Chapters 1, 2, 3, 4, 5, 6, 7, 8, 9, 10, 11
First Obtained: Hunting Path

Related Stages
Edit
Ad blocker interference detected!
Wikia is a free-to-use site that makes money from advertising. We have a modified experience for viewers using ad blockers

Wikia is not accessible if you've made further modifications. Remove the custom ad blocker rule(s) and the page will load as expected.