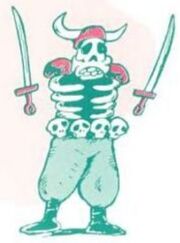 The Oxocutioner (凶骨牛骸(きょうこつぎゅうがい)Kyōkotsugyūgai, lit. Evil Bone Ox Corpse) is a skeletal bovine boss who rules over the Prison Gate Island (獄門島(ごくもんとう)Gokumon Tō) from Getsu Fūma Den that appeared in Chapter 11's crossover stage, "The Legend of Fuma", in Castlevania: Harmony of Despair. It is armed with several swords that it can control. It is one of three sub-bosses that must be destroyed before reaching the final boss, Ryukotsuki. It becomes more powerful after either of the other two sub-bosses Decapiclops and Chimyriad are destroyed.
The Oxecutioner also appeared as an enemy in the Konami cross-over game Konami Wai Wai World.
Enemy Data
Edit
Enemy Data: Oxocutioner
Image

Name

- Game
Description
Statistics
Items
Location
A bovine corpse that commands a deadly ring of spinning swords.
Chapter 11

Ad blocker interference detected!
Wikia is a free-to-use site that makes money from advertising. We have a modified experience for viewers using ad blockers

Wikia is not accessible if you've made further modifications. Remove the custom ad blocker rule(s) and the page will load as expected.