Ad blocker interference detected!
Wikia is a free-to-use site that makes money from advertising. We have a modified experience for viewers using ad blockers

Wikia is not accessible if you've made further modifications. Remove the custom ad blocker rule(s) and the page will load as expected.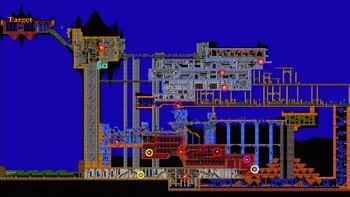 Origins is the fourth DLC stage of Castlevania: Harmony of Despair and the Tenth stage overall. The level is be based on the whole Castlevania map, features Vampire Killer as stage music and Nothing to Lose as the boss theme, both tracks from the NES Castlevania. All enemies and bosses are in 8-bit sprites. Bosses include the Phantom Bat, Medusa, Mummies, The Creature, Death and Dracula. Released on January 26th, 2011. The version of Simon Belmont that is from the same game is also available as a separate DLC playable character. The map is a replica of the entire castle of the original Castlevania, with minor changes to fit the gameplay style (and to correctly connect the areas).
In addition to the Vampire Killer and Nothing to Lose arrangements, nine original 8-bit tracks were added to the game with this stage. Players must beat the level once before using these songs.
Enemy Data
Edit
Enemy Data: Enemy Data (edit)
Image

Name

- Game
Description
Statistics
Items
Location
Origins Enemies
The remains of some visitor to the castle from long ago.
Exp: 50

Soul: Red

Chapter 10

An ancient castle guardian.
Exp: 400

Drop: Geiborg
Soul: Red

Chapter 10

An ancient castle guardian. Wields axes.
Exp: 500

Drop: Axe, Great Axe
Soul: Red

Chapter 10

A dark predator that has lived in the castle for ages.
Exp: 200

Soul: Red

Chapter 10

A lost soul that has wandered the castle since ancient times.
Exp: 300

Soul: Blue

Chapter 10

A old-hat bat that has taken up residence in the castle.
Exp: 100

Soul: Blue

Chapter 10

The revived skulls of ancient dinosaurs.
Exp: 400

Bind: R. Fireball
Soul: Yellow

Chapter 10

An evil raven that enjoys the taste of human flesh.
Exp: 200

Soul: Blue

Chapter 10

A skeleton warrior that has absorbed blood. It can regenerate.
Exp: 0

Soul: (none)

Chapter 10

An ancient skeleton brought to life by mystical forces.
Exp: 300

Soul: Red

Chapter 10

A fossilized dinosaur brought to life through magic.
Exp: 500

Bind: R. Fireball
Soul: Blue

Chapter 10

Monster heads created by Queen Medusa.
Exp: 100

Soul: Blue

Chapter 10

A diminutive foe who perfected the art of leaping long ago.
Exp: 300

Soul: Red

Chapter 10

A monster that lives in the waters around the old castle.
Exp: 300

Bind: R. Fireball
Soul: Red

Chapter 10

First-class travel for hunchbacks in a hurry.
Exp: 300

Soul: Red

Chapter 10

Origins Bosses
A giant bat whose symbolic ties to vampires strikes fear in all.
Exp: 1000

Bind: R. Fireball
Soul: Red

Chapter 10

A legendary monster that petrifies with a single gaze.
Exp: 1000

Drop: Melon
Soul: Red

Chapter 10

An ancient king who sought life after death.
Exp: 1000

Soul: Red

Chapter 10

A creature made long ago by a very foolish man.
Exp: 1000

Drop: Berserker Mail
Soul: Yellow

Chapter 10

Dracula's servant for as long as any can remember.
Exp: 1000

Drop: Death's Robe
Bind: R. Deathscythe
Soul: Blue

Chapter 10

The most legendary of all vampires.
Exp: 3000

Soul: Red

Chapter 10

Item Data
Edit
Item Data: Item Data
Image

Name

- Game
Description
Type / Users
Attributes / Consume
Statistics / Sell
Found
Notes
Sword whose name means "Blessed Wind."
Sword
Alucard/Soma 
#hands: 1

ATK +15
Sell: (cannot be sold) 
Rarity: *****
Find: Chapter 10 (Hard)
Drop: R. The Count (Hard)

An indefatigable sword. Its blade glitters with light.
Greatsword
Soma 
#hands: 2

ATK +82, STR +6, INT +6

Rarity: *****
Drop: R. The Count
First Obtained: Chapter 10 (Hard)

Throw axes.
Bullet Soul
Soma 
Consume: 12 MP 
ATK +10

Rarity: ***
Steal: R. Axe-Man (5.5%)
First Obtained: Chapter 10

Throw spears.
Bullet Soul
Soma 
Consume: 12 MP 
ATK +8

Rarity: ***
Steal: R. Black Knight (5.5%)
First Obtained: Chapter 10

Throw bones.
Bullet Soul
Soma 
Consume: 10 MP 
ATK +9

Rarity: ***
Steal: R. Skeleton (5.5%)
First Obtained: Chapter 10

Summon an 8-bit zombie.
Bullet Soul
Soma 
Consume: 8 MP 
ATK +6

Rarity: ***
Steal: R. Zombie (5.5%)
First Obtained: Chapter 10

Summon an 8-bit Dracula.
Bullet Soul
Soma 
Consume: 15 MP 
ATK +16

Rarity: ***
Steal: R. The Count (0.5 %)
First Obtained: Chapter 10

Summon an 8-bit Mummy Man.
Bullet Soul
Soma 
Consume: 12 MP 
ATK +10

Rarity: ***
Steal: R. Mummy Man (3.5%)
First Obtained: Chapter 10

Summon an 8-bit Queen Medusa.
Bullet Soul
Soma 
Consume: 12 MP 
ATK +10

Steal: R. Queen Medusa (3.5 %)
First Obtained: Chapter 10

Summon an 8-bit fish man.
Bullet Soul
Soma 
Consume: 12 MP 
ATK +6

Rarity: ***
Steal: R. Fish Man (5.5%)
First Obtained: Chapter 10

Summon an 8-bit Phantom Bat.
Bullet Soul
Soma 
Consume: 12 MP 
ATK +12

Rarity: ***
Steal: R. Phantom Bat (3.5%)
First Obtained: Chapter 10

Summon an 8-bit eagle.
Bullet Soul
Soma 
Consume: 12 MP 
ATK +8

Rarity: ***
Steal: R. Eagle (5.5 %)
First Obtained: Chapter 10

Summon an 8-bit black leopard.
Bullet Soul
Soma 
Consume: 8 MP 
ATK +12

Steal: R. Black Leopard (5.5 %)
First Obtained: Chapter 10

Summon an 8-bit raven as a familiar.
Guardian Soul (Familiar)
Soma 
Attrib: ATK +2
Consume: 6 MP 
Steal: R. Raven (5.5%)
First Obtained: Chapter 10

Summon an 8-bit bat as a familiar.
Guardian Soul (Familiar)
Soma 
ATK +2

Steal: R. Vampire Bat (5.5%)
First Obtained: Chapter 10

Effect: 1 MP

Summon an 8-bit ghost as a familiar.
Guardian Soul (Familiar)
Soma 
Consume: 6 MP 
ATK +2

Steal: R. Ghost (5.5%)
First Obtained: Chapter 10

Summon an 8-bit skele-dragon as a familiar.
Guardian Soul (Familiar)
Soma 
Consume: 8 MP 
ATK +2

Steal: R. Skele-Dragon (5.5%)
First Obtained: Chapter 10

Gain the ability to hover in one location.
Guardian Soul
Soma 
Consume: 8 MP 
Steal: R. Medusa (5.5%)
First Obtained: Chapter 10

'
Guardian Soul
Soma 
Consume: 3 MP 
ATK +7

Steal: R. Grim Reaper (3.5%)
First Obtained: Chapter 10

Restore HP gradually.
Enchanted Soul
Soma 
Steal: R. The Creature (3.5%)
First Obtained: Chapter 10

Increase CON
Enchanted Soul
Soma 
CON +2

Steal: R. Dragon Cannon (5.5%)
First Obtained: Chapter 10

A dagger used by an ancient vampire hunter.
Sub-Weapon
Jonathan, Julius, Richter, Simon 
Consume: 4 MP 
Sell: $20,000 
Buy: $80,000 
A "boomerang" used by an ancient vampire hunter.
Sub-Weapon
Jonathan, Julius, Richter, Simon 
Consume: 12 MP 
Find: Purple chests
(Chapter 10 Hard)
Drop: R. The Count

A "fire bomb" used by an ancient vampire hunter.
Sub-Weapon
Jonathan, Julius, Richter, Simon 
Consume: 12 MP 
Find: Purple chests
(Chapter 10 Hard)
Drop: R. The Count

An axe used by an ancient vampire hunter.
Sub-Weapon
Jonathan, Julius, Richter, Simon 
Consume: 10 MP 
Sell: $30,000 
Buy: $120,000 
Helm worn by an ancient vampire hunter.
Head (Helmet)
Jonathan, Julius, Richter, Simon 
HP +10, MP +10, STR +6, INT +3, DEF +10, LCK +5
Sell: Cannot be sold 
Rarity: *****
First Obtained: Chapter 10

Effect: Boosts sub-weapon power

Armor worn by an ancient vampire hunter.
Chest (body armor)
Jonathan, Julius, Richter, Simon 
HP +30, MP +30, DEF +29, STR +8, INT +4, LUK +5
Sell: Cannot be sold 
Rarity: *****
Drop: R. The Count (Hard)

Effect: Increases damage output of sub-weapons

Boots worn by an ancient vampire hunter.
Leg (Boots)
Jonathan, Julius, Richter, Simon 
HP +8, MP +8, DEF +8, STR +4, INT +2, LCK +3

Rarity: *****
Drop: R. The Count
First Obtained: Chapter 10 (Hard)

Effect: +40% movement speed

Cloak worn by an ancient vampire hunter.
Back (Cloak)
Jonathan, Julius, Richter, Simon 
HP +12,

MP +12, DEF +6, STR +3, INT +2, LCK +2


Rarity: *****
First Obtained: Chapter 10 (Normal)

Flames once spat by an ancient creature.
Bound Spell
Charlotte 
Consume: 12 MP 
ATK +6

Rarity: *
Bind: R. Fish Man, R. Dragon Cannon, R. Skele-Dragon, R. Phantom Bat
First Obtained: Chapter 10

A scythe used by the Grim Reaper in ancient times.
Bound Spell
Charlotte 
Consume: 20 MP 
ATK +9

Rarity: **
Bind: R. Grim Reaper
First Obtained: Chapter 10

Throw bones of an ancient skeleton.
Bound Spell
Charlotte 
Consume: 10 MP 
ATK +10

Rarity: *
Bind: R. Skeleton
First Obtained: Chapter 10

Attack with the right head of Cerberus.
Weapon Glyph
Shanoa 
Attrib: Fire, Slash

ATK +7
Sell: (cannot be sold) 
Rarity: ***
Find: Chapter 10 purple and boss (Hard), boss (Normal).
First Obtained: Chapter 10

Attack with the left head of Cerberus.
Weapon Glyph
Shanoa 
Attrib: Ice, Slash

ATK +7
Sell: (cannot be sold) 
Rarity: ***
Find: Chapter 10 purple and boss (Hard), boss (Normal).
First Obtained: Chapter 10