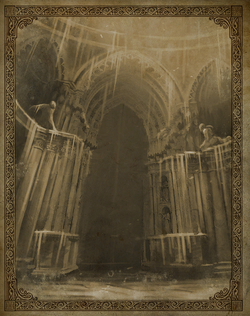 For other uses, see Olrox (disambiguation).
Olrox is the third stage of Lords of Shadow Chapter 8. Here, Olrox is fought.
The level's unlockable trial requires that Gabriel finishes the level after keeping the focus meter at its maximum value for 60 seconds.
Zobek's journal
Edit
The giant mechanisms and gears continue to turn, but Gabriel continues to foil them. He is now in the heart of evil. Darkness is all around, surrounding him from all sides. Here, he will meet the brother of the one he destroyed in the village. His name is Olrox. The two brothers have been her greatest champions, yet I sense their reign of evil is ending here tonight. Olrox and his brother Brauner are traitors who took sides with the Queen when she became one of the Dark Lords. He has wreaked terror on the lands ever since, but now he will meet one who is greater, more powerful than he. One who will deliver a message without any mercy. Olrox, meet Gabriel Belmont and his Vampire Killer.
Enemy Data
Edit
Item Data
Edit
Item Data: Olrox
Image

Name

- Game
Description
Type / Users
Attributes / Consume
Statistics / Sell
Found
Notes
(Red magical gems that can be inserted into the empty slots of a Shadow Gem Medallion.)
Gabriel 
Find: Chapters 2, 3, 4, 5, 6, 7, 8, 9, 10, 11

Related locations
Edit
Ad blocker interference detected!
Wikia is a free-to-use site that makes money from advertising. We have a modified experience for viewers using ad blockers

Wikia is not accessible if you've made further modifications. Remove the custom ad blocker rule(s) and the page will load as expected.