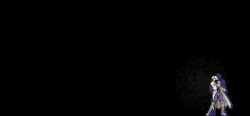 For other uses, see Nightmare (disambiguation).
Nightmare (also known as Evil Sphere) is a gigantic ball of negative energy that is usually thrown by Malachi. It is a very slow moving attack and can take a while for it to pass. The first appearance of this spell in the series was as Malachi's own signature attack in Castlevania: Symphony of the Night.
Soma Cruz is able to use this attack by using Malachi's soul in Castlevania: Dawn of Sorrow and Harmony of Despair.
Charlotte Aulin is able to gain this spell from Malachi in Portrait of Ruin and Harmony of Despair.
Game specific information
Edit
Evil Sphere is an ability in Dawn of Sorrow. It can be obtained by gaining dominance over Malachi's soul and it allows Soma to summon and unleash a large dark sphere that travels forward slowly, destroying everything in its path.
Dmitrii Blinov was able to copy this ability from Malachi, which Soma witnessed, and it is the first attack he will use on Soma until he copies one of Soma's own attacks that he uses on him.
Nightmare is one of Charlotte Aulin's magic spell skills in Castlevania: Portrait of Ruin. When cast, a concentrated mass of fear and agony born from the darkness is summoned, which then travels forward slowly.
Item Data
Edit
Item Data: Nightmare
Image

Name

- Game
Description
Type / Users
Attributes / Consume
Statistics / Sell
Found
Notes
Summon a dark sphere that spews dark energy.
Bullet Soul
Soma 
Attrib: Dark
Consume: 44 MP 
Rarity: **
Drop: Malachi

A concentrated mass of fear and agony born from the darkness.
Magic Spell
Charlotte 
Attrib: Dark
Consume: 30 MP 
Base Attack: 8/16 (Half/full charge)

Drop: Malachi

Effect: Fires a large meteor forward. Can hit multiple times.
Special: Fully charged: The meteor greatly increases in size and travels further.

Summon a dark sphere that spews magical energy
Bullet Soul
Soma 
Consume: 20 MP 
ATK +12

Rarity: **
Steal: Malachi (2.3%)

A concentrated mass of fear and agony born from the darkness.
Bound Spell
Charlotte 
Consume: 20 MP 
ATK +12

Rarity: ***
Bind: Malachi
First Obtained: Chapter 4

Animations
Edit