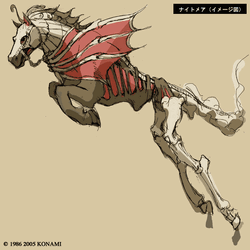 For other uses, see Nightmare (disambiguation).
Nightmares are demons that take up residence in one's dreams. In Castlevania: Circle of the Moon, they take the form of female demons, similar to other Lady Bats, such as a Succubus, which is also known to invade men's dreams. In Castlevania: Aria of Sorrow and later games, it takes the form of a undead horse, with an armored rider on occasion. The Nightmare Soul fires a flaming horse forward. The Nightmare seemed to be planned for appearance in Castlevania: Dawn of Sorrow, as evidenced by concept artwork (seen right). Although it never made it in-game, it appeared in Castlevania: Order of Ecclesia, deeply resembling the concept artwork.
Appearances
Edit
It is possible to remove the entirety of the armor worn by this enemy depending on the location you strike.
Enemy Data
Edit
Enemy Data: Nightmare
Image

Name

- Game
Description
Statistics
Items
Location
'
Strong: Darkness
HP: 250
Exp: 2,000
Atk: 550
Def: 550

Common Drop: Mind Restore (2.5%)
Rare Drop: Needle Armor (0.5%)

Outer Wall



A demon that takes up residence in one's dreams.
Strong: Darkness
Weak: Holy
HP: 260
MP: 300
Exp: 280
Atk: 43
Def: 30

Common Drop: Lance
Soul: Evil Gallop

Underground Reservoir

Those who witness its coming soon know death.
Weak: Strike, Flame, Light
HP: 44
Exp: 27
Skill Pt: 1
Atk: 28

Drop: Horse Hair (8%)

Tymeo Mountains

Ad blocker interference detected!
Wikia is a free-to-use site that makes money from advertising. We have a modified experience for viewers using ad blockers

Wikia is not accessible if you've made further modifications. Remove the custom ad blocker rule(s) and the page will load as expected.