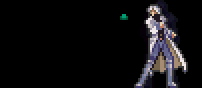 The Nature Mine, also known as Mixed Set, is a land mine that appears as a bullet soul in Castlevania: Aria of Sorrow, Dawn of Sorrow and Harmony of Despair. It can be obtained from an Une and it plants an Une in the ground, which will deal constant damage upon contact.
Game specific information
Edit
In Aria of Sorrow, Soma will drop a green land mine to the ground. After a brief period of time or being stepped by an enemy, it will arm itself and a vine will grow from it to impale enemies. This vine is very similar to those used by Alura Une to protect herself.
In Dawn of Sorrow, Soma will drop a seed to the ground and an Une will grow from it, dealing constant damage upon contact. This is one of the most recommended souls to bring when fighting against Dmitrii, as he will be forced to copy this ability, drastically reducing his reach and damage potential.
Item Data
Edit
Item Data: Nature Mine
Image

Name

- Game
Description
Type / Users
Attributes / Consume
Statistics / Sell
Found
Notes
Buries land mines throughout its turf.
Bullet Soul
Soma 
Consume: 20 MP 
85 AP

Rarity: 12
Drop: Une

Throw Une at a foe.
Bullet Soul
Soma 
Consume: 18 MP 
Rarity: **
Drop: Une

Plant an Une in the ground
Bullet Soul
Soma 
Consume: 5 MP 
ATK +4

Rarity: *
Steal: Une (4.3%)

Animations
Edit