The Mushussu is an enemy in Castlevania: Dawn of Sorrow. It is a furious beast from ancient Babylonia.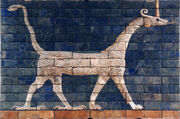 The mušḫuššu (also known as "sirrušu" or "sirrush") is a creature depicted on the reconstructed Ishtar Gate of the city of Babylon, dating to the 6th century B.C. As depicted, it is a mythological hybrid: a scaly dragon with hind legs resembling the talons of an eagle, feline forelegs, a long neck and tail, a horned head, a snake-like tongue, and a crest.
Description
Edit
The Mushussu is a type of dragon, similar to a Manticore, that can petrify an adventurer with a sting from its scorpion-like tail.
Gaining dominance over its soul grants Soma the Poison Stinger ability, which gives him the ability to grow a scorpion-like tail that has a chance to poison certain enemies. It must be noted that this attack is actually the one used by the Manticore, as the Mushussu petrifies enemies instead.
Enemy Data
Edit
| No. | Name | JPN | HP | MP | ATK |
| --- | --- | --- | --- | --- | --- |
| 82 | Mushussu | ムシュフシュ Mushufushu | 460 | 100 | 70 |
| | |
| --- | --- |
| Description | "A furious beast from ancient Babylonia." |
Item Data
Edit
Item Data: Mushussu
Image

Name

- Game
Description
Type / Users
Attributes / Consume
Statistics / Sell
Found
Notes
Served al dente.
Food
Soma 
HP +150
Sell: $475 
Common Drop: Manticore, Mushussu

Grow a poisonous tail.
Guardian Soul
Soma 
Attrib: Piercing, Poison
Consume: 5 MP/sec 
Rarity: **
Drop: Mushussu