For the Dual Crush, see Thor's Hammer.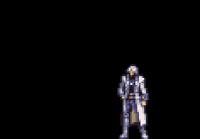 Mjollnjr (also known as Tallhammer or Lightning Hammer) is the hammer of the Norse thunder-god, Thor. It is generally the most powerful Hammer or Cudgel found in any game it appears in, and is imbued with the Lightning attribute.
Game specific information
Edit
The name "Thor's Hammer" is mangled to Tallhammer in the English version of the game. The weapon is a large Thunder-element hammer, but due to the odd way in which Aria of Sorrow implements Strike damage, the Tallhammer does not actually deal damage of that type. This means that while powerful, it has no advantage against enemies like golems and Armors which other Hammers are useful against.
In Castlevania: Order of Shadows, the lightning hammer is in the mansion on a perch at the end of a long hallway just before the tunnels. It can only be reached after you have a double jump, however. It is swung in an overhead arc much like the Demon Sword, though it is more powerful and slower. It also consumes hearts faster than any other sub-weapon in the game.
Item Data
Edit
Ad blocker interference detected!
Wikia is a free-to-use site that makes money from advertising. We have a modified experience for viewers using ad blockers

Wikia is not accessible if you've made further modifications. Remove the custom ad blocker rule(s) and the page will load as expected.