Minera Prison Island
Castlevania: Order of Ecclesia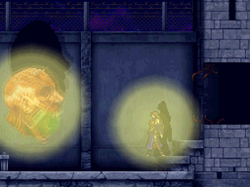 Shanoa faces an Evil Force
Minera Prison Island is the fifth location in Castlevania: Order of Ecclesia. It's a deserted prison island full of the souls of prisoners and other beasts, as well as the lair of the Giant Skeleton.
Game Description
Edit
"This abandoned prison once housed petty thieves and criminals forgotten by society. The lighthouse on the island is still in service, and at time strange figures can be seen coming and going. What purpose have they for empty cells and forsaken souls?"
Abram can be found in this stage, inside the rightmost room after the large corridor with swinging pendulums and iron maidens.
Aeon can also be found in this stage, at the top of the prison's central tower (Ordinary Rock required).
SoyBeanFlour can be found in this stage as well. Once rescued, he'll stay at Jacob's shop in Wygol Village.
Background Music
Edit
External Links
Edit