Ad blocker interference detected!
Wikia is a free-to-use site that makes money from advertising. We have a modified experience for viewers using ad blockers

Wikia is not accessible if you've made further modifications. Remove the custom ad blocker rule(s) and the page will load as expected.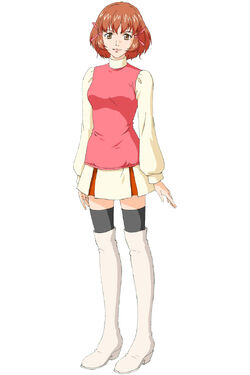 In Castlevania: Dawn of Sorrow, when Soma is forced to confront Celia's cult, Mina Hakuba stays behind at the safety of her home and is not physically involved in Soma's quest for the most part. She sends him moral support through a letter during Soma's journey along with her personal talisman. This proves to be vital in preventing the Dark Lord from emerging out of Soma's body when Celia kills a doppelganger made to resemble a captive Mina and Soma's emotions overflow; the darkness-supressive nature of the talisman holds off the dark influence within Soma long enough for Arikado to arrive and save him. After Soma returns to normal, he is able to defeat Celia and Dmitrii at length and escape the crumbling location, where at the outskirts he reunites with Mina and their relationship becomes something of a romantic joke among their other friends, much to both their embarrassment.
Dialogue Data: Mina Hakuba (edit)
Image / Participants
Transcript
Information
Soma Cruz

Mina Hakuba Genya Arikado Celia Fortner

A New Threat Emerges
(Soma and Mina are standing in a city street)


Mina Hakuba: Ha ha! Are you serious?
Soma Cruz: Yeah, and that's when Hammer decided to--
Mina Hakuba: Wait... Soma, can I ask you something?
Soma Cruz: Yeah, of course, Mina. What's wrong?
Mina Hakuba: It's been a year since it all happened, hasn't it?
Soma Cruz: Yeah, just about.
Mina Hakuba: And what was it called? You know, the ability to use the power of monsters?
Soma Cruz: You mean the power of dominance? I lost it when we escaped Dracula's Castle, remember?
Mina Hakuba: I know, but... It's just that I get this terrible feeling inside...
Soma Cruz: It's probably nothing... Look, don't worry, okay? This past year, I haven't been able to use any of the powers I gained. And--
(Suddenly someone shows up out of nowhere. Mina hides behind Soma)
???: You... You're Soma Cruz, aren't you?
Soma Cruz: Uh... Yeah... And you are?
???: You may call me Celia.
(Celia points at Soma)
Celia Fortner: But not for long... Come forth, my servants!
(Celia summons a Skeleton. Mina screams from behind)
Soma Cruz: What?! Mina, get back!
(Mina steps back)
Soma Cruz: Damn it! Of all the worst--
???: Soma! You back off, too!
(Arikado shows up)
Mina Hakuba: Mr. Arikado!
Celia Fortner: Genya Arikado, the guardian?! Hmph! You shall not interfere!
(Celia casts a barrier)
Genya Arikado: A barrier! Quick, Soma! Use this!
(Arikado throws a knife to Soma for him to use. Then the fight begins. Soma defeats three enemies and gained dominance over their souls)
Celia Fortner: Soma Cruz, I shall see your demise. That is certain. Using whatever means...
(Celia vanishes in seconds)
Soma Cruz: Wait!
Genya Arikado: Save your energy. You won't catch her now.
Soma Cruz: Damn it!
Mina Hakuba: Soma, are you all right?
Soma Cruz: Yeah, I'm fine. But that power... It returned! Arikado, what's going on?
Genya Arikado: The power didn't "return." It was always with you. You just never had a need for it since you fled the castle. And that set free all the souls that you had gained dominance over.
Soma Cruz: You mean I couldn't use the power because I was never in any danger? Hmm. Anyway, who was that woman? She seemed to know you.
Genya Arikado: Celia Fortner. She's the priestess of a new and rapidly growing cult. We suspected she was up to something, so we've been keeping tabs on her.
Mina Hakuba: But why would someone like that come after Soma?
Genya Arikado: They want to resurrect the lord of darkness. Like some sought to do with Dracula.
Soma Cruz: I guess they don't like the fact that I didn't become the "lord of darkness."
Genya Arikado: Not only that, they intend to create a new lord by eliminating you.
Mina Hakuba: E-Eliminating?
Genya Arikado: But Soma, you don't need to get any more involved with this. Let us deal with it.
(Arikado leaves)
Soma Cruz: That woman... She said she would "see my demise."


Mina Hakuba: Soma...

Video:


06:50

Castlevania Dawn of Sorrow Walkthrough (Power of Dominance Returns Again Pt. 1)



Game: Castlevania: Dawn of Sorrow
Location: City Street
When: First Encounter with Celia

Soma Cruz

Genya Arikado Mina Hakuba

Meeting with Arikado
(Somewhere in Demon Guest House)


Genya Arikado: Soma!
(Soma turns round)
Soma Cruz: ??
Genya Arikado: I told you not to get involved, didn't I?
Soma Cruz: Arikado! What are you doing here? I thought that you were protecting Mina...
Genya Arikado: Mina is fine. My colleagues are providing protection. Besides, keeping you under observation gets priority.
Soma Cruz: You're still treating me as if I were the dark lord. Haven't you seen enough?
Genya Arikado: I need you to understand. You are considered to be extremely dangerous...
Soma Cruz: ...
Genya Arikado: But since you're here, I suppose I can't stop you. While under my supervision, I'm prepared to overlook use of excessive force. Besides, we can't just allow this cult to carry on this way.
Soma Cruz: Th-Thanks. I appreciate it.
Genya Arikado: Also, Mina entrusted me with this. It's for you.
(Arikado hands Soma Mina's Talisman)
Soma Cruz: What? A letter? And a talisman?
(Soma turns round to read the letter in private)
Mina Hakuba: Dear Soma, If you're reading this, you've probably gone after that cult. I had a feeling you would when you disappeared after that incident. I know that you worry about me, Soma. But I worry just as much about you, too. I won't ask you to come back right away because you're way too stubborn. But please promise me that whatever happens, you'll come back unharmed. Oh, and don't forget about the talisman! I'm sure it'll come in handy. I'll be praying for you. Always, Mina
Soma Cruz: Mina...
Genya Arikado: Soma.
Soma Cruz: !!
(Soma turns back towards Arikado)
Genya Arikado: Brief me on the situation. What have you discovered?
Soma Cruz: Uh... Sure. (I described what I had learned so far to Arikado.)
Genya Arikado: Understood. But the fact that Celia mentioned a "plan" doesn't sound good.
Soma Cruz: The only thing I can do is keep climbing towards the top floor.
Genya Arikado: Fine, you do that. In the meantime, I'll try to track down Dario's whereabouts.


(Arikado leaves Soma behind)

Video:


10:51

Castlevania Dawn of Sorrow Walkthrough (Dario & Demon Guest House Pt. 8)



Game: Castlevania: Dawn of Sorrow
Location: Demon Guest House
When: Meeting with Arikado

Soma Cruz

Mina Hakuba Celia Fortner

Soma the Dark Lord
(In the middle room of Garden of Madness)


Soma Cruz: Huh?! Mina!!
(Mina is crucified upon a tree just between Celia and Soma)
Mina Hakuba: Soma!
Celia Fortner: Soma Cruz. Behold, the last moments of your loved one's life.
(Celia is conjuring a spell pointing towards Mina)
Soma Cruz: Wait! Stop!!
(Soma tries to stop Celia but he was too late. Celia pierces Mina with a beam of light)
Mina Hakuba: S-Soma...
(Mina dies)
Mina Hakuba: ...
(Soma is starting to lose himself)
Soma Cruz: Mina!! You... You heartless wench...
Celia Fortner: It certainly wasn't easy spiriting her away. Go ahead. Hate me. You hate me enough to wish death upon me, don't you?
Soma Cruz: You... You'll pay for this...
(Dark souls are staring to gather round Soma and absorbing them)
Celia Fortner: The power of chaos is gathering... I was right. Now hate me more. When your hatred peaks, the new dark lord shall emerge.
Soma Cruz: If it means getting Mina's revenge, I'll do it. Make me the dark lord. Mina, forgive me... I can't honor your wish...
Celia Fortner: It's coming... The birth of the new dark lord!
Soma Cruz: AAAAAAAAAAGH!
(Soma strikes Celia down)
Celia Fortner: Wh-Why? I brought you back into this world...
Soma Cruz: Shut up. You annoy me. That's all the reason I need. Besides, the petty little humans will die off soon enough. Your turn came a little earlier, that's all. Hahahahaha.


(Soma laughs evily)

Video:


04:29

Castlevania Dawn of Sorrow Walkthrough (Bad Ending Pt. 27)



Game: Castlevania: Dawn of Sorrow
Location: Garden of Madness
When: If Mina's Talisman was mot equipped

Soma Cruz

Mina Hakuba Celia Fortner Genya Arikado Dmitrii Blinov

Dmitrii Revived
(In the middle room of Garden of Madness)


Soma Cruz: Huh?! Mina!!
(Mina is crucified upon a tree just between Celia and Soma)
Mina Hakuba: Soma!
Celia Fortner: Soma Cruz. Behold, the last moments of your loved one's life.
(Celia is conjuring a spell pointing towards Mina)
Soma Cruz: Wait! Stop!!
(Soma tries to stop Celia but he was too late. Celia pierces Mina with a beam of light)
Mina Hakuba: S-Soma...
(Mina dies)
Mina Hakuba: ...
(Soma is starting to lose himself)
Soma Cruz: Mina!! You... You heartless wench...
Celia Fortner: It certainly wasn't easy spiriting her away. Go ahead. Hate me. You hate me enough to wish death upon me, don't you?
Soma Cruz: You... You'll pay for this...
(Dark souls are staring to gather round Soma and absorbing them)
Celia Fortner: The power of chaos is gathering... I was right. Now hate me more. When your hatred peaks, the new dark lord shall emerge.
Soma Cruz: If it means getting Mina's revenge, I'll do it. Make me the dark lord. Mina, forgive me... I can't honor your wish...
Celia Fortner: It's coming... The birth of the new dark lord!
Soma Cruz: AAAAAAAAAAGH!
???: Soma! Don't be fooled!
Soma Cruz: !!
(Arikado intervenes Soma's transformation)
Genya Arikado: That Mina is a fake!
Celia Fortner: Arikado! Why must you always get in the way?
Genya Arikado: How clever of you to use a Doppelganger. Ah, but you haven't won just yet...
(The dark souls that dominates Soma suddenly wane)
Soma Cruz: Uuuuugh!
Genya Arikado: What?! What's wrong?
(The dark souls starts to get out of Soma's body and transfers to the body of fake Mina)
Celia Fortner: D-Dmitrii...
Dmitrii Blinov: I should thank my lucky stars for making good my escape. I managed to loosen myself when the boy's emotions shifted momentarily.
Celia Fortner: I thought you'd died...
Dmitrii Blinov: Shedding my former body was a desperate gamble. But it has worked out quite well.
Genya Arikado: You copied the power of dominance from Soma?
Dmitrii Blinov: Ah, so you understand. I touched the boy's soul and copied his ability. And I have been doubly lucky in finding a suitable replacement for my body.
Celia Fortner: Y-You obtained the same power as Soma Cruz?
Dmitrii Blinov: When I fought the boy, I confirmed one thing. Dracula's heir need not be the inheritor of the dark lord's power. I only need to possess the same ability to become the true dark lord's heir. And of course, only I could gain that ability.
Genya Arikado: I won't allow that.
Dmitrii Blinov: Have patience, Arikado. Or perhaps I should address you with your real name? When the boy began his dark transformation, I scanned memories of his past lives. Make one move, and the boy will die. You don't wish that, do you?
Genya Arikado: Hmph.
(Soma gets up)
Soma Cruz: Does becoming the dark lord really mean that much to you?
Dmitrii Blinov: I have told you before. I wish to learn what my power signifies. Celia. I must gain dominance over more powerful demons. I will surpass the boy.
Celia Fortner: So be it. Soma Cruz, I take back what I have said to you. It seems that death is your only destiny.
(Dmitrii and Celia vanish before their eyes)
Soma Cruz: Arikado, where do you think they've gone?
Genya Arikado: I imagine that they've gone to the basement of the tower next to the castle. A foul, unearthly energy emanates from there. There must be a portal to the dark side that fuels the castle's existence.
Soma Cruz: I see...
Genya Arikado: Don't do anything rash. You're not in any shape to fight now. Let us handle this.
Soma Cruz: His power is mine. I must be the one to stop him.
Genya Arikado: ... Fine... But Julius and I will go in first.


(Arikado leaves)

Video:


10:44

Castlevania Dawn of Sorrow Walkthrough (Mine of Judgment Pt. 28)



Game: Castlevania: Dawn of Sorrow
Location: Garden of Madness
When: If Mina's Talisman was equipped

Soma Cruz

Mina Hakuba Genya Arikado Hammer Yoko Belnades Julius Belmont

Good Ending
(Soma and Arikado watch the castle crumbling down)


Genya Arikado: It's finally over. We're finished here. Let's go.
Soma Cruz: ...
Genya Arikado: Soma, what's wrong?
Soma Cruz: Tell me. Just what is the dark lord?
Genya Arikado: What Celia told you wasn't necessarily wrong. The dark lord is the entity opposite to god.
Soma Cruz: Then that means there will always be a need for a dark lord. All because I ducked out from becoming the next in line!
Genya Arikado: Don't misconstrue me! Perhaps there is a need for the dark lord... But there is no reason at all for you to become the dark lord.
Soma Cruz: But if it weren't for me, none of this would have happened!
Genya Arikado: You're neither a god nor a demon. You're only human. You have no chance at ever achieving perfection. Or are you saying you want to be the dark lord?
Soma Cruz: No... Of course not.
Genya Arikado: Then stay true to that. Look.
(Yoko, Julius, and Hammer is shown not far from them)
Genya Arikado: There are people waiting for you. Don't break their hearts.
Soma Cruz: Everyone...
Julius Belmont: You kept your promise.
Yoko Belnades: Welcome back, Soma.
Hammer: Looks like you're all done! Your face says it all.
Soma Cruz: Arikado... You're right...
(Mina arrives)
Soma Cruz: Mina! What are you doing here?
(Soma rushes toward Mina)
Mina Hakuba: What do you mean? I was so worried...
Soma Cruz: Oh, Mina, I'm sorry. Don't cry.
Mina Hakuba: Gotcha! Welcome back, Soma.
Julius Belmont: Poor Soma. She'll have you wrapped around her finger.
Yoko Belnades: Oh, without a doubt.
Hammer: I'd like to be wrapped around Yoko's finger...
Soma Cruz: Wh-What are you saying? We're not like that!
(Yoko, Julius, and Hammer laugh)
Mina Hakuba: Th-That's right!
Julius Belmont: No need to be bashful, you two.
Genya Arikado: If the world needs a dark lord, it will emerge. Even if it's not you, Soma...


(Ending credit)

Video:


10:05

Castlevania Dawn of Sorrow Walkthrough (Menance Pt. 31)



Game: Castlevania: Dawn of Sorrow
Location: Outside the Castle