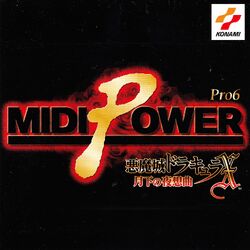 The Midi Power Pro is a collection of MIDI arrangements of video game soundtracks. Number 6 of this series is Dracula X: Nocturne in the Moonlight and was released on November 27th, 1998. The arrangers are Eisaku Nambu, Haruhiko Kuroiwa and Hiroshi Ebihara.
Track list
Edit
Pearl Dance Song
Golden Dance
Crystal Drops
Nocturne in the Moonlight
Strange Bloodline
Marble Corridor
Our Festival
Dracula's Castle
Young Nobleman of Sadness (The Tragic Prince)
Awakened Soul
Related products
Edit
Ad blocker interference detected!
Wikia is a free-to-use site that makes money from advertising. We have a modified experience for viewers using ad blockers

Wikia is not accessible if you've made further modifications. Remove the custom ad blocker rule(s) and the page will load as expected.