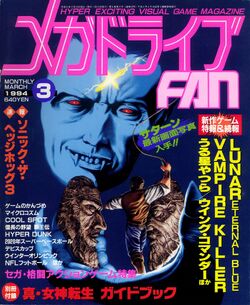 MegaDriveFAN was a Japanese magazine published by Tokuma Shoten which focused on covering Sega Mega Drive news. It contains some issues related to Vampire Killer (known in the west as Castlevania: Bloodlines).
Jun 1993 - Issue which announced a contest to design enemies and traps for the upcoming Castlevania: Bloodlines.
Sep 1993 - Issue which published the results of this contest.
Mar 1994 - Front cover and article.
Apr 1994 - Contains a strategy book on Castlevania: Bloodlines.
June, 1993
Edit
Contest results gallery
Edit
Related products
Edit
External links
Edit
Ad blocker interference detected!
Wikia is a free-to-use site that makes money from advertising. We have a modified experience for viewers using ad blockers

Wikia is not accessible if you've made further modifications. Remove the custom ad blocker rule(s) and the page will load as expected.