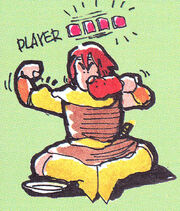 Meat (also called Pork Chop, Pot Roast, Werewolf Leg or Beef Jerkey in some games) is an item usually hidden in breakable blocks which can restore the player's health. Some games had large and small varieties of meat, which would restore different amounts of health.
Game Specific Information
Edit
Food in the Castlevania series became more varied after Rondo of Blood, in which Maria had a different set of food items (sweets) than Richter did (who continued to only eat meat).
Meat is the highest health-giving food type in Symphony of the Night. There are a couple of other items that give as much HP as meat though, including the Sushi (+100) and the Saturn-exclusive Delicious Meal (+75).
Meat also appears in Castlevania Legends, which restores half of the player's health.
The New York Steak is a requirement for completing Wind's "Build Your Strength 2" quest. It can be found by breaking a ledge in the room before confronting the Creature or as a drop from a Gorgon. It restores HP +1,000, which makes it the best HP-restoring type of meat in the game.
In Harmony of Despair there are two kinds of meat. Small meats are common and give 29 HP (Meat Strip) or reduce HP by that amount (Rotten Meat). This amount is a playoff of the Japanese word for "meat" (niku), which sounds like a "two" (ni) followed by a "nine" (ku). Large meats (Boneless Ham, Roast Beef, Tasty Meat) are three star items that give 100 more HP, and also give a CON and/or STR boost. Most other food items that contain some meat in them also increase CON or STR.
Item Data
Edit
Item Data: Meat
Image

Name

- Game
Description
Type / Users
Attributes / Consume
Statistics / Sell
Found
Notes
Power: Partially revives lost power; Comment: Appears with secret Whip stroke
Item
Simon Belmont 
Capture these and restore slices of your Life Gauge.
any 
Partially revives lost power
Item
Simon Belmont 
Revives more lost power
Item
Simon Belmont 
Castlevania pot roast [use]
Food (Meat)
Alucard 
HP +50

Find: Castle Keep, Clock Tower, Entrance, Outer Wall, Reverse Caverns, Reverse Clock Tower, Underground Caverns (

...

)
Drop: Flail Guard

Roast turkey [use]
Food (Meat)
Alucard 
HP +80

Find: Abandoned Pit to the Catacomb, Castle Keep, Entrance
Drop: Flea Rider

Sirloin steak [use]
Food (Meat)
Alucard 
HP +100

Find: Castle Keep
Drop: Lossoth, Minotaur

Restores half of your life gauge.
Normal Item
Sonia 
Restores a little HP
HP Restoration Item (Meat)
Reinhardt, Carrie 
Buy: 2,500 G 
Restores most of your HP
HP Restoration Item (Meat)
Reinhardt, Carrie 
Buy: 3,000 G 
Restores 50% of HP.
Recovery Item (Meat)
Cornell, Henry, Reinhardt, Carrie 
Restores 80% of HP.
Recovery Item (Meat)
Cornell, Henry, Reinhardt, Carrie 
'
Recovery Item (Food)
Nathan 
HP +50

Drop: Gorgon, Fox Hunter, Hipogriff, Merman, Werewolf, Were-Horse

'
Recovery Item (Food)
Nathan 
HP +100

Drop: Abiondarg, Imp, Grizzly, Minotaur

Restores some HP.
Food
Juste Belmont 
Restores a large amount of HP.
Food
Juste Belmont 
Restores 29 HP.
Food
Soma 
HP +29
Sell: $145 
Rare Drop: Minotaur
Common Drop: Gorgon

Restores 290 HP.
Food
Soma 
HP +290
Sell: $200 
Find: Underground Reservoir
Rare Drop: Killer Fish, Red Minotaur

A slab of rotting beef.
Food
Soma 
HP -200 or HP +200 (if Flesh Golem Soul equipped).
Sell: (cannot be sold) 
Common Drop: Zombie Soldier, Flesh Golem

A little piece of meat on a bone. Recovers HP.
Recovery Item
Leon Belmont 
HP +29

Drop: Fishman, Merman

A big piece of meat. Recovers HPs.
Recovery Item
Leon Belmont 
HP +290

Drop: Lizard Man

'
Food
any 
'
Food
any 
Restores 29 HP.
Item, (Food/Meat)
Jonathan, Charlotte 
HP +29

Find: Entrance

Restores 290 HP.
Item, (Food/Meat)
Jonathan, Charlotte 
HP +290
Sell: $250 
Find: Tower of Death
Drop: Catoblepas

A juicy, mouth-watering steak.
Item, (Food/Meat)
Jonathan, Charlotte 
HP +1,000
Sell: $1,250 
Find: Dark Academy
Drop: Gorgon

Restores 29 HP. Yummy!
Item (Food/Meat)
Shanoa 
HP +29
Sell: 72G 
Buy: 290G Find: Monastery, Wygol Villager, Ruvas Forest, Wygol Village (Jacob's shop)
Drop: Merman, Armored Beast

Restores 290 HP. Delicious!
Item (Food/Meat)
Shanoa 
HP +290

Find: Somnus Reef, Dracula's Castle

A High-quality cut of choice meat.
Item (Food/Meat)
Shanoa 
HP +1,000
Sell: 1,250G 
Buy: 5,000G Find: Wygol Village (reward from Aeon, Jacob's shop)
Conditions: Complete "Can't Cook Without Ingredients" quest. 
A thin Viennese cutlet.
Item (Food)
Shanoa 
HP +230

Find: Mystery Manor

Well done
Item (Food/Meat)
Alucard 
HP + 30%
Sell: 1S 80C 
Find: Royal Chapel, Castle Keep
Drop: Malachi, Dark Octopus, Frozen Shade, Armor Lord, Flame Demon

Feeds a small family
Item (Food/Meat)
Alucard 
HP +120
Sell: 2S 40C 
Drop: Malachi, Dark Octopus, Frozen Shade, Sniper of Goth, Frozen Half, Cloaked Knight, Winged Guard

A slab of rotting beef.
Item (Food - Meat/Bad Food)
any 
HP -29
Sell: $7 
Rarity: *

Restores 29 HP.
Item (Food - Meat)
any 
HP +29, STR +3
Sell: $75 
Rarity: *
Find: Chapter 3
Drop: Minotaur (5.30%)

A real ham for a real hungry person. It weighs a ton.
Item (Food - Meat)
any 
HP +129, CON +5
Sell: $320 
Rarity: ***
Find: Chapter 5, 6 (all hard)

Cooked with Incredible precision; only a hint of pink remains.
Item (Food - Meat)
any 
HP +129, STR +3, CON +3
Sell: $320 
Rarity: ***
Find: Chapter 6 (Hard)

Restores 129 HP.
Item (Food - Meat)
any 
HP +129, STR +5
Sell: $360 
Rarity: ***
Find: Chapter 6 (Hard)

'
Item (Food - Meat)
any 
HP +86, STR +5, CON +5, LCK +5
Sell: $75 
Find: Chapter 10