'Castlevania: Lords of Shadow' - Stage 27 (Maze Gardens)

from FlamingGnats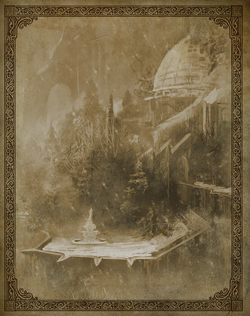 Maze Gardens is a location in Castlevania: Lords of Shadow. It is the second stage of Lords of Shadow Chapter 6. The Maze Gardens were once a major attraction within the Vampire Castle, being the most beautiful in all of Europe.
The level's unlockable trial requires that Gabriel finishes the level after defeating 15 Mandragoras in less than 15 seconds.
Zobek's journal
Edit
It seems getting into the castle will be more difficult than first thought. Gabriel will have to navigate the maze gardens. In this place, a man can be lost forever or be devoured by the creatures that haunt its labyrinthine corridors. These gardens were once the most beautiful in all Europe, and many pilgrims would visit the castle grounds from lands far away to witness their timeless beauty. Now they lie wasted and rotten, decaying as their master lives on.
Enemy Data
Edit
Enemy Data: Maze Gardens
Image

Name

- Game
Description
Statistics
Items
Location
Common ingredients in the creation of magic potions, mandrake roots are an important resource for alchemists and mages the world over. (

...

)
Strong: Dagger
Weak: Explosive Dagger x2, Fairy, Holy Water x2, Crystal x3
Size: Small
Difficulty: Low

Maze Gardens (Chapter 6), Woes Moor (Chapter 9)

These monsters are the largest type of known arachnids. (

...

)
Strong: Fairy, Holy Water x2, Divine Shield
Weak: Dagger, Crystal x3
Size: Big
Difficulty: Medium

Drop: Light Gem (once)

Chapter 2, 6

Item Data
Edit
Item Data: Maze Gardens
Image

Name

- Game
Description
Type / Users
Attributes / Consume
Statistics / Sell
Found
Notes
(Green magical gems that can be inserted into the empty slots of a Life Gem Medallion.)
Gabriel 
Recovers health.

Find: Chapters 1, 2, 3, 4, 5, 6, 7, 8, 9, 10, 11
First Obtained: Hunting Path

(Blue magical gems that can be inserted into the empty slots of a Light Gem Medallion.)
Gabriel 
Find: Chapters 2, 3, 4, 5, 6, 7, 8, 9, 10, 11

(Red magical gems that can be inserted into the empty slots of a Shadow Gem Medallion.)
Gabriel 
Find: Chapters 2, 3, 4, 5, 6, 7, 8, 9, 10, 11

Related locations
Edit