Ad blocker interference detected!
Wikia is a free-to-use site that makes money from advertising. We have a modified experience for viewers using ad blockers

Wikia is not accessible if you've made further modifications. Remove the custom ad blocker rule(s) and the page will load as expected.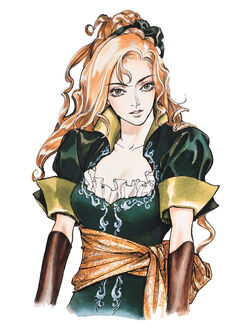 Maria Renard sets off on a journey to Dracula's Castle in search of Richter Belmont in Castlevania: Symphony of the Night. There she runs into Alucard several times and requests he help her find Richter. Maria is not playable in the original PSX version, but two later editions of the game feature two different styles of play for her.
In the English version of the game, Maria is voiced by Kimberly Forsythe.
Dialogue Data: Maria's Dialogue in the PSX Version (edit)
Image / Participants
Transcript
Information
Alucard

Maria

First Encounter with Maria
Maria: You seem human and yet... What do you here?


Alucard: .......... I've come to destroy this castle.
Maria: Then we have the same purpose. I'll trust you for now. I'm Maria. Who are you?
Alucard: .......... Alucard.


Maria: Not the talkative type I can see. Well, perhaps we'll meet again if you live that long. Farewell.

Video:


00:30

Castlevania SOTN First meeting with Maria.



Game: Castlevania: Symphony of the Night
Location: Marble Gallery

Alucard

Maria

Second Encounter with Maria
Maria: So we meet again, Alucard.


Alucard: It seems so.
Maria: As friendly as ever, I see. It's strange. This castle is different than I remember it.
Alucard: ......... This castle is a creature of Chaos. It may take many incarnations.


Maria: So I can't trust my memories, huh? Oh well, I'll do my best. Good luck.

Video:


00:31

Castlevania SOTN Another Maria scene.



Game: Castlevania: Symphony of the Night
Location: Alchemy Laboratory

Alucard

Maria

Third Encounter with Maria
Maria: Impressive. You're very strong.


Alucard: .......... What is it you want? You didn't come here to tell me that.
Maria: You're right. Do you know the name Richter Belmont?
Alucard: Of the Belmont Clan? Of course, but...
Maria: He disappeared about a year ago and I'm sure he's here. If you see him, please let me know.
Alucard: As you wish, my lady.


Maria: Thank you. So you do know how to be a gentleman.

Video:


01:40

Castlevania "Symphony of the Night" -Boss 5 (Hippogryph)



Game: Castlevania: Symphony of the Night
Location: Royal Chapel

Alucard

Maria

Bad Ending
Alucard: So you made it.


Maria: Alucard! How is Richter?
Alucard: I'm sorry...
Maria: I see... Thank you for stopping him... Do you suppose that this too is Fate?
Alucard: ......... So your journey is over as well then?
Maria: No, not until I learn what caused Richter's madness.
Alucard: I understand... Well then, may the Gods guard you along the way. Farewell.


Maria: You as well Alucard. Good-bye.

Video:


08:45

Let's Play Castlevania SOTN Bad Ending



Game: Castlevania: Symphony of the Night

Alucard

Maria

Fourth Encounter with Maria
Maria: So did you find Richter?


Alucard: I don't know if he's the one you're looking for, but I found a Belmont.
Maria: Really? So he is here!
Alucard: But the one I saw was the enemy. He was the lord of this castle...
Maria: That can't be true! You're wrong! I... I must go now!


Game: Castlevania: Symphony of the Night
Location: Royal Chapel

Alucard

Maria

Obtaining Holy Glasses
Maria: Alucard?


Alucard: That voice? Maria?
Maria: I'm sorry. You were right. He has joined forces with the enemy...
Alucard: So it was a Belmont after all...
Maria: But someone must be controlling him... Whatever we do, we can't harm Richter.
Alucard: But he must be stopped.
Maria: I know. Well...here. Take these with you.
Alucard: What are these?
Maria: If you wear them, you can see beyond evil illusions.


Alucard: Thank you. 'Tis best then if you pray for the soul of your friend.

Video:


02:09

Castlevania "Symphony of the Night" (Maria Gives You a Secret Item)



Game: Castlevania: Symphony of the Night
Location: Castle Center

Alucard

Maria Richter

Reverse Castle Revived
Richter: No... What have I done...


Maria: Thank you Alucard, for saving Richter.
Richter: Alucard!? The same Alucard who fought alongside my ancestor Trevor Belmont?... That was over 300 years ago!
Alucard: No time for small talk. Is the person who controlled you in that castle over there?
Richter: Yes, I think so...
Alucard: Maria, take Richter and leave here. I'll finish this.


Maria: All right... Good luck.

Video:


02:50

Castlevania SOTN First Castle Final Sequence



Game: Castlevania: Symphony of the Night
Location: Castle Keep

Alucard

Maria Richter

Good Ending
Alucard:


Maria:
Richter:
Alucard:
Richter:
Alucard:
Richter: I understand.
Maria:
Alucard:
Maria:
Alucard:
Maria:
Richter:
Maria:
Richter:


Maria:

Video:


08:09

PlayStation - Castlevania SOTN Final Battle - Real Ending without Credits



Game: Castlevania: Symphony of the Night

Alucard

Maria Richter

Best Ending
Alucard:


Maria:
Richter:
Alucard:
Richter:
Alucard:
Richter: I understand.
Maria:
Alucard:
Maria:
Alucard:
Maria:
Richter:
Maria:
Richter:
Maria:


Richter:

Video:


09:58

Castlevania Symphony of the Night PSX & PSP Dialogue Changes Intro & Best Ending



Game: Castlevania: Symphony of the Night