Ad blocker interference detected!
Wikia is a free-to-use site that makes money from advertising. We have a modified experience for viewers using ad blockers

Wikia is not accessible if you've made further modifications. Remove the custom ad blocker rule(s) and the page will load as expected.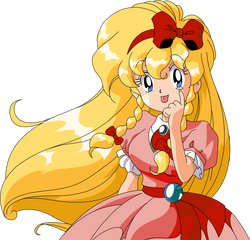 Maria Mode is a gameplay mode featured in several Castlevania games, in which the player can play as Maria Renard.
Game Specific Information
Edit
In Castlevania: Rondo of Blood, Maria becomes playable as soon as the player releases her from her cell. Many players consider that playing as Maria makes the game much easier than playing as Richter. She has her own set of sub-weapons, each with their own item crashes. She is slightly smaller than Richter, which allows her to dodge certain attacks much more easily than the vampire hunter. Her main weapon is summoning doves to attack her enemies. She can throw two of them at a time. She can also slide and roll in order to move faster and dodge attacks. Her special ability, called Guardian Knuckle (performed by pressing ↓ ↑ ↘ + II when facing right), deals quite a large amount of damage if used correctly. Finally, she can double jump, which is extremely useful for reaching certain platforms and dodge enemies and their attacks. However, she has far less health than Richter. Maria has her own ending, a cutesy and slightly shorter version of Richter's ending.
Main article: Maria Renard/Symphony of the Night/Saturn
See: Richter Mode
In Castlevania: The Dracula X Chronicles, she still plays the same as in the original version without any gameplay changes.
Main article: Maria Renard/Symphony of the Night/DXC
Move List
Edit
Sub-Weapons
Edit
Dialogue Data: Maria Mode
Image / Participants
Transcript
Information
Castlevania: Rondo of Blood (edit)
Maria

Tera

Saving Tera
(In the Caves, Tera senses someone while praying and turns)


Tera: Who's there? Oh...
(Tera runs towards Maria)
Maria: Sister...
Tera: Surely you're help sent from heaven. You are an angel.
Maria: Please hurry back to the village. And be careful.
Tera: Wait, what's your name?
Maria: (smiles) Maria Renard. Vampire hunter.
Tera: Maria, I know God is watching over you.


(Tera prays for Maria)

Video:


00:49

Castlevania Rondo of Blood -- Bonus Maria and Tera (English)



Japanese version:


00:49

Castlevania Rondo of Blood -- Bonus Maria and Tera



Game: Castlevania: Rondo of Blood (DXC, Maria Mode)
Location: 3'. Caves
When: As saving Tera

Maria

Iris

Saving Iris
(Iris senses someone and turns)


Iris: Oh, what's this? Come to save me?
Maria: Uh-huh.
(Iris sees Maria's wounded arm)
Iris: Oh, my. You're injured.
Maria: Yeah. But I'm just fine. Uh-oh, you gotta run! See you!
Iris: Wait! My father is a doctor.
(Iris tears off her dress and treats Maria's wounds)
Iris: That should do it.
Maria: Wow! Thank you so much, Miss!


Iris: Oh, no. It's I who should be thanking you. Thank you. It's very dangerous here. Be careful.

Video:


00:38

Castlevania Rondo of Blood -- Bonus Maria and Iris (English)



Japanese version:


00:38

Castlevania Rondo of Blood -- Bonus Maria and Iris



Game: Castlevania: Rondo of Blood (DXC, Maria Mode)
Location: 4'. River
When: As saving Iris

Maria

Annette

Saving Annette
(Maria calls Annette)


Maria: Annette!
Annette: Oh, Maria!
(The two meets each other)
Annette: Are you all right, Maria?
Maria: Yeah. I'm just fine because I have the same vampire hunter's blood flowing in me as that man, Richter. I think he's fighting someplace else right now.
Annette: Richter's coming.
Maria: Oh, my. Looks like you hoped it wouldn't be me who came to save you.
Annette: Oh, no. That's not what I meant. Thank you very much, Maria. (smiles) Come on, let's go home.
Maria: Not yet! There's still something I have to do. You go back without me. I'm gonna beat that vampire to a bloody pulp! See you!
Annette: Maria!
(Maria takes her leave)


Annette: For heaven's sake, she can be as reckless as Richter!

Video:


01:02

Castlevania Rondo of Blood -- Bonus Maria and Annette (English)



Japanese version:


01:02

Castlevania Rondo of Blood -- Bonus Maria and Annette



Game: Castlevania: Rondo of Blood (DXC, Maria Mode)
Location: 7. Clocktower
When: As saving Annette

Maria

Dracula

Maria Ending
(Dracula is on his knees)


Dracula: Once again, the blood of Belmont has defeated me... Perhaps this, too, is part of my fate.
Maria: It's your fault. For being so mean to everyone!
(The cat growls)
Dracula: It is not by my own power that I am resurrected. It is a greed of humanity which calls me back. And thus, by might, I rule. Might becomes the one and only justice in this world!
Maria: I don't understand what that means! No matter how complicated you make it, a bad thing is still bad thing!
Dracula: So long as greedy humans exist, I shall be reborn. That's all you need to remember. (grins) You proved amusing to me. We shall meet again, blood of Belmont!
(Dracula laughs at Maria and fades away)
Maria: What's he think is so funny?!
(The castle starts to collapse)
Maria: Oh, it's crumbling! Everyone, run for it, quickly!


(Maria escapes from the castle with her familiars)

Video:


02:26

Castlevania Rondo of Blood -- Bonus Maria Ending (English)



Japanese version:


02:26

Castlevania Rondo of Blood -- Maria Ending



Game: Castlevania: Rondo of Blood (DXC, Maria Mode)
Location: 8. Keep
When: After defeating Dracula

Castlevania: The Dracula X Chronicles (edit)
Maria

Tera

Saving Tera
(A nun senses someone while praying and turns)


Maria: Are you okay? You're saved now!
(The nun approaches Maria)
???: Oh, God in heaven! You've answered my prayers!
Maria: Hey, thank Him later. Come on, we've got to go!
???: You are truly an angel. May I ask you your name?
Maria: It's Maria Renard. What's yours?
???: Maria, the Holy Mother... My name is Tera. Sister Tera.
Maria: Holy Mother...? Do you need help getting out of here?
Tera: I'd be unworthy of such attention. Please, let me find my own way out, and see your mission through.
Maria: But...
Tera: Oh, and please accept this. It's nothing compared to your power, I'm sure, but if it helps...then there's been a purpose to my time here.
(Maria obtains Tera's Necklace)
Maria: All right, I understand. Now run for it before things get too dangerous. See you!


Tera: A thousand bleesings, oh holy Maria...

Video:


07:17

Castlevania The Dracula X Chronicles Walkthrough (Alt. Stage 3)

(dialogue at 3:13)

Japanese version:


16:38

悪魔城ドラキュラXクロニクル - 女性救出セリフ集

(dialogue at 4:41)

Game: Castlevania: The Dracula X Chronicles (Maria Mode)
Location: 3'. Caves
Background Music: Demo Scene 01
When: As saving Tera

Maria

Iris

Saving Iris
(A young maiden senses someone and turns)


???: ?! Who's there?
Maria: It's okay! I'm Maria! Maria Renard. I'm here to save you, Miss.
???: Saved by a little girl...? I-I'm sorry. My name's Iris. Thank you for saving me.
Maria: My pleasure. See you later!
Iris: Wait a minute!
Maria: ?!
Iris: Let me see your arm.
Maria: Okay.
Iris: I thought so. You're injured.
Maria: Not really.
Iris: Oh, believe me. If we don't treat that right now, you're looking at infection, and then putrification.
Maria: What?! W-W-What do we do?
Iris: (smiles) I'm joking. Here, just let me bind that up. My father's a doctor.
(Iris aids Maria)
Iris: There you go. All better.
Maria: Phew. Thank you, Miss Iris.
Iris: No problem. Here, let me give you this too.
(Maria obtains Iris's Charm)
Maria: What is it?
Iris: Just a good luck charm. To help keep you safe.


Maria: It feels...powerful! Well, time to go. See you!

Video:


09:07

Castlevania The Dracula X Chronicles Walkthrough (Alt. Stage 4)

(dialogue at 3:25)

Japanese version:


16:38

悪魔城ドラキュラXクロニクル - 女性救出セリフ集

(dialogue at 7:50)

Game: Castlevania: The Dracula X Chronicles (Maria Mode)
Location: 4'. River
Background Music: Demo Scene 01
When: As saving Iris

Maria

Shaft

Undying Melody
(Maria avoids Shaft's attack)


Maria: !! What are you doing?! I know you! You're the bad man!
Shaft: And I know you. I know your power. If that Belmont man hadn't interfered before, then...
Maria: You're going to pay for what you did! I'll show you!
Shaft: Ha! Will you? Servants, come forth from the gates of Hell! Attack! Rid my master's castle of this pest!
(Shaft moves away with laughter. As Maria defeats all bosses, Shaft returns)


Shaft: Hmm, intriguing. Strong indeed. Very well, then. Face me!

Video:


06:15

Castlevania The Dracula X Chronicles Walkthrough (Stage 6)

(dialogue at 1:39)

Game: Castlevania: The Dracula X Chronicles (Maria Mode)
Location: 6. Ceremonial Room
Background Music: Former room
When: Before the battle with several bosses

Maria

Annette

Vampire Annette
(Maria sees Annette is on her knees)


Maria: !! Annette!
Annette: M-Maria... You're safe! ...What took you so long?
Maria: Annette... You're bad now, just like them!
(Annette turns into a vampire)
Annette: It's not bad, Maria. It's wonderful. Come here. Play with us.
Maria: No! I came to beat the bad man! Not join him like you!
Annette: You're turning your back on me, just like Richter! You stupid little brat! Very well! I'll teach you to respect your elders!


(The battle begins)

Video:


04:12

Castlevania The Dracula X Chronicles Walkthrough (Stage 7 L. Vampire)

(dialogue at 1:38)

Japanese version:


16:38

悪魔城ドラキュラXクロニクル - 女性救出セリフ集

(dialogue at 14:23)

Game: Castlevania: The Dracula X Chronicles (Maria Mode)
Location: 7. Clocktower
Background Music: Demo Scene 03
When: If Annette is not saved

Maria

Annette

Saving Annette
(Annette hears Maria is calling her and turns)


Maria: Annette!
Annette: !! Maria, what are you doing here?
Maria: Richter saved me. He's strong, just like you said!
Annette: Thank goodness. Richter's all right.
Maria: Mm-hmm! And I've been helping him!
Annette: Hmm? With what?
Maria: You know, fighting the bad man.
Annette: Maria, that's... You can't! It's much too dangerous!
Maria: No, no, I'll be fine. Really, it's okay! Anyway, time to go.
(Maria leaves)


Annette: Maria, wait! Richter... Please protect that girl. Please...

Video:


07:01

Castlevania The Dracula X Chronicles Walkthrough (Alt Paths & Disc Locations 6)

(dialogue at 3:29)

Japanese version:


16:38

悪魔城ドラキュラXクロニクル - 女性救出セリフ集

(dialogue at 12:10)

Game: Castlevania: The Dracula X Chronicles (Maria Mode)
Location: 7. Clocktower
Background Music: Demo Scene 01
When: As saving Annette

Maria

Dracula

The Brink of Death
(Maria enters Dracula's Throne Room)


Dracula: Are you lost, little one?
Maria: I know exactly where I am! I've come here for you!
Dracula: Ah, your blood sings with power! Such a treat, and on the eve of such a glorious feast! Come, girl, and feed your master!
Maria: Uh-uh! You want blood, come get it yourself!


(Dracula stands up from his throne and raises the wind to Maria)

Video:


09:01

Castlevania The Dracula X Chronicles Walkthrough (Stage 8 Bad Ending)

(dialogue at 1:54)

Japanese version:
video - Nico Nico Douga video (registration required)

Game: Castlevania: The Dracula X Chronicles (Maria Mode)
Location: 8. Keep
Background Music: Demo Scene 02
When: Final battle with Dracula

Maria

Shaft

Bad Ending
(Dracula is on his knees)


Maria: All right, Mr. Bad Man, ready to die?
(Suddenly, Shaft shows up)
Shaft: I will not allow this!
Maria: What's going on?!
Shaft: Count Dracula must not be allowed to lose!
(Shaft and Dracula vanishes away)
Maria: They got away... And I almost had him, too!


(Ending credits)

Video:


09:01

Castlevania The Dracula X Chronicles Walkthrough (Stage 8 Bad Ending)

(dialogue at 4:23)

Japanese version:


16:38

悪魔城ドラキュラXクロニクル - 女性救出セリフ集

(dialogue at 16:08)

Game: Castlevania: The Dracula X Chronicles (Maria Mode)
Location: 8. Keep
When: After defeating Dracula (without rescuing maidens)

Maria

Dracula

Good Ending
(Dracula is on his knees)


Dracula: Completely impossible! Beaten by a little girl!
Maria: Ha! Didn't you know? Good always wins!
Dracula: Child... It's power that always wins. Good and evil are only words, illusions created by the powerful.
Maria: I don't know what you mean, but I know you hurt a lot of people. No matter what you say, that's wrong!
Dracula: So even as the world decays, innocence endures in eyes like yours. Fascinating...


(Dracula fades away with screaming)

Video:


09:36

Castlevania The Dracula X Chronicles Walkthrough (Stage 8 Good Ending)

(dialogue at 4:05)

Japanese version:
video - Nico Nico Douga video (registration required)

Game: Castlevania: The Dracula X Chronicles (Maria Mode)
Location: 8. Keep
When: After defeating Dracula (with all maidens are rescued)